Budget deficit to ease as economies moves away from recession
Published time: 21 Oct, 2009 18:33
Edited time: 22 Oct, 2009 06:59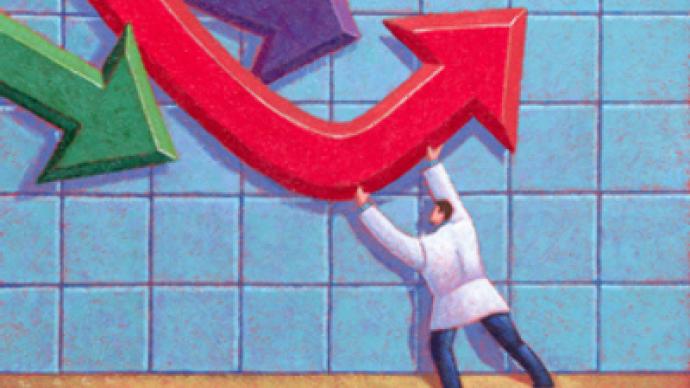 An economy pulling strongly out of recession would help the budget deficit to be reined in faster than previously expected.
During budget talks Finance Minister Aleksey Kudrin said Russia had overcome the recession with quarter on quarter and growth seeing Russia pull out of the disastrous contraction of the first half of this year. He says it is now possible that Russia's budget deficit – which was forecast this year to balloon to more than 8% of GDP, after years in surplus – could be held lower and wound back to just 3% by 2012.
"We had expected the budget deficit for 2009 to be 8.3%, but due to economic stabilization, it will be lower. If the oil price stays at the same level of 70 dollars per barrel till the end of the year, the budget deficit will be between 7.5 and 7.7% of GDP."
The announcement comes as revisions to the government's annual GDP forecast also come in for revision. After being forecast in May to slump by 8.5% in 2009 the Economic Development Ministry now says the fall could be limited to 8% or less, with commodity prices for Russia's major exports now considerably higher than they were in the first half. With crude prices also well above the governments forecast, and GDP revisions likely to improve the overall outlook, Prime Minister Putin emphasised its impact would still be felt.
"GDP decline will be marked, but probably not as dramatically as we thought at the start of the year, although, of course, it will be a noticeable decline."
Anton Struchenevsky, Senior economist at Troika Dialog, believes the recent data indicates a more balance period of growth ahead.
"I think, these positive statistics are really the beginning of a period of continued growth, probably not that big as in previous years, but a more balanced one."
Struchenevsky notes that the collapse of late 2008 and early 2009 was marked by the elimination of stocks by producers, and a near halt to new production amidst currency uncertainty and volatile demand outlook. He says that with overall domestic demand holding up much stronger, producers have to restart production, and that the overshoot to the downside could add to upside potential ahead.
"To understand the reasons for growth we have to look at the things that caused the downturn. The dramatic fall of GDP in 1H 2009 of more than 10% was mainly driven by a sharp downturn in stocks, which accounted for about 9% of the total fall.
And it was quite logical, as in times of uncertainty, when the Rouble is weakening, inflation is growing and the future of domestic demand is absolutely vague, producers tend to use their inventories rather than produce.
This compares with the fall of domestic demand that was down by just 5%. So, as any stocks are limited, production should recover at a certain moment, and this is why we see growth now – they ceased using inventories. And, I think, we could go into positive territory by November or December this year, with the GDP growth possibly to reach a sky-high 10% in 2010 due to effect of a low base."