Acron links up with Rio Tinto on potash
Published time: 28 Sep, 2011 09:39
Edited time: 28 Sep, 2011 13:42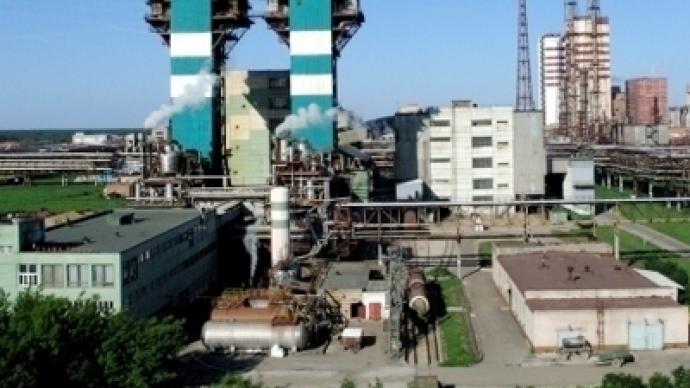 Russian mineral fertilizer producer, Acron, will team up with a leading international mining group Rio Tinto to explore and develop some of the potash licenses the Russian company has in Canada.
North Atlantic Potash, the Canadian subsidiary of Acron, will create a joint venture with Rio Tinto to closely study potash exploration opportunities in 9 areas totalling 600,000 acres (about 241,000 hectares) in the southern part of Saskatchewan, Canada.The financial terms of the deal have not been disclosed.
North Atlantic Potash was upbeat about the move, with Arie Zuckerman, the Company's President, saying "this agreement is another step to maximize the development potential of our vast potash exploration holdings in Saskatchewan" and noting that expertise of Rio Tinto will help them strongly develop their business in Canada.
"We strongly believe that together with the professional experience and financial capabilities Rio Tinto brings into this project, we will be able to be the next producing mine in Canada."
David Waugh, CEO of North Atlantic Potash, agreed, saying"the opportunity this Joint Venture brings to North Atlantic Potash, is to expand our resource base knowledge in additional permitted areas, leveraging our land and holdings, while moving forward on advancing our potash development strategy."
According to the analysts from Troika Dialog, Mikhail Stiskin, Irina Lapshina , Zaurbek Zhunisov andStanislav Ermakov, Rio Tinto will invest heavily into exploration, but also benefit from developing its potash sector presence.
"We expect Rio Tinto to fund a big chunk of the exploration expenses and capex for the project. Rio Tinto will own a 40% stake in the JV that could be potentially increased up to 80%. The global miner had a rather unspectacular and short-lived involvement in the potash sector previously, having sold its development assets to Vale during the market downturn in 2009 (including the flagship Rio Colorado project in Argentina)."
Acron, in turn, will also benefit from the JV, as joining the global leader will certainly speed up its Canadian operations, concluded Troika Dialog analysts.
"Acron's Canadian properties are at the earliest stages of development and it is too early to assign them any value; however, they certainly do carry some optionality. The company has never been in a position to develop the assets on its own and capitalize on this opportunistic purchase. We thus think a JV with a global miner is the most viable option. The Talitsky project in Perm Region is the focus of Acron's attention to achieve self-sufficiency in potash. Also, the phosphate Oleniy Ruchey project is slated for commissioning in mid-2012."