Trump pins hope on 'great financial team' on trade mission in China
Published time: 3 May, 2018 04:36
Edited time: 3 May, 2018 10:07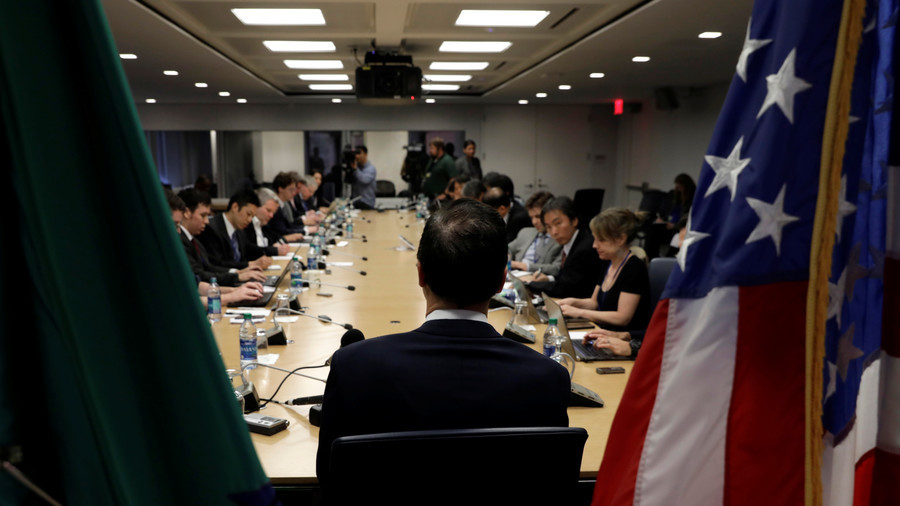 As the US Treasury Secretary arrived in Beijing for key talks, President Trump tweeted his support for the crucial mission aimed at negotiating a trade deal that he can present as "fair" and would stop the onset of a "tariff war."
"Our great financial team is in China trying to negotiate a level playing field on trade!," Trump tweeted late Wednesday night. "I look forward to being with President Xi in the not too distant future. We will always have a good (great) relationship!"
Our great financial team is in China trying to negotiate a level playing field on trade! I look forward to being with President Xi in the not too distant future. We will always have a good (great) relationship!

— Donald J. Trump (@realDonaldTrump) May 3, 2018
The US delegation is being led by Treasury Secretary Steven Mnuchin, who is tasked with sorting out the trade dispute with the Asian economic giant. During the two-day visit, the US team will meet with Chinese Vice Premier Liu He to try to resolve many economic and trade issues that have escalated during the recent months.
"As long as the US is sincere about maintaining the long-term stability of China-US economic and trade ties and comes to the negotiating table with mutual respect, equal-footed consultation and win-win results in mind, then we believe that the bilateral consultation would be constructive," the Chinese Foreign Ministry Spokesperson Hua Chunying noted on Wednesday.
READ MORE: US-China trade spat: Trump says 'good chance' of deal
Considering the scale of disputes, China, however, remains realistic and practical about the upcoming consultations, noting that not all issues can be resolved during one visit.
"In light of the economic volumes of the two countries and the complexity of bilateral ties, it is never very practical to imagine all problems being wiped out through one-time consultation," Hua added.
Washington had better not "expect that its trade-war stick will force Beijing to take whatever the US delegation offers," an editorial published in the Global Times cautioned on Wednesday.
Despite the caution voiced by China, much of the financial world is anticipating some progress from the talks. The two economic superpowers have been locked in a trade dispute since March, when Trump announced 25 percent tariffs on $50 billion in Chinese imports. Beijing, which has repeatedly urged the US to reconsider imposing trade barriers, responded in kind by raising levies on 128 US imports, with tariffs ranging from 15 to 25 percent.
The spat intensified further after Washington banned American firms from selling parts and software to Chinese tech company ZTE Corp for seven years. In response, China slapped a 179 percent tariff on American sorghum imports.
While emphasizing its willingness to work out trade differences with Washington, Beijing has repeatedly accused the Trump administration of pursuing protectionist practices in violation of the World Trade Organization's (WTO) principles.
Trump, for his part, argues that the measures undertaken by the US are needed to cut the trade deficit with China, which stood at $375 billion last year. The US also believes that tighter restrictions on Chinese investments in high technology projects in America would prevent potential intellectual property theft.
Besides China, the US is seeking to renegotiate trade relations with the European Union, also in an effort to fix the trade imbalances. In response, EU leaders have promised to defend their economic interests and have threatened to introduce counter-measures in the event that the Trump administration compromises the inter-continental trade balance by imposing tariffs on steel and aluminum imports.
Like this story? Share it with a friend!