Russian aluminum major losing Japanese market after being sanctioned by US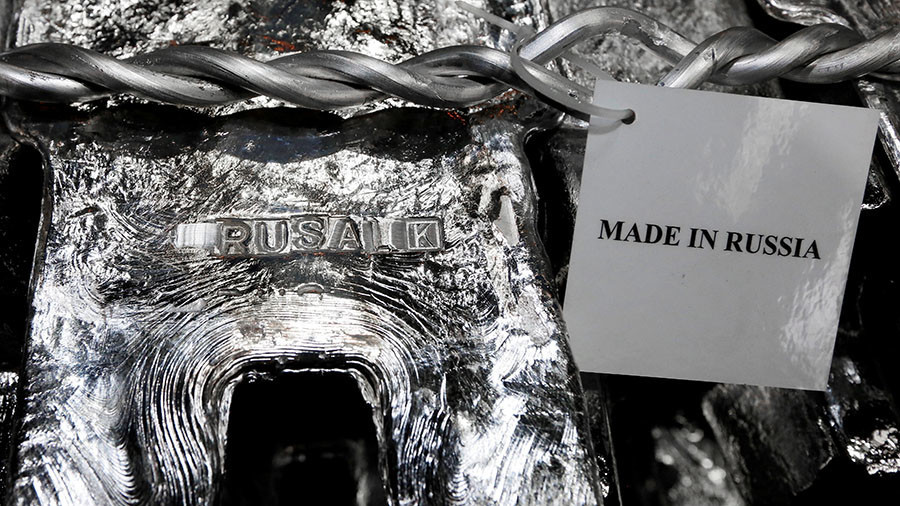 Top commodity dealers in Japan have asked United Company RUSAL to stop shipping refined aluminum and other products after the Russian firm was added to the US sanctions list.
"We have requested RUSAL stop shipments of aluminum for our term contracts as we can't make payment in US dollars and we don't want to take the risk of becoming a secondary sanction target by the United States," an unnamed source at a trading house told Reuters. Another source close to the issue confirmed the information.
The company's Japanese customers include Mitsubishi, Marubeni, Sumitomo and Mitsui. All in all, Japan purchases some 300,000 tons of refined aluminum from Russia, which amounts to nearly 16 percent of the country's total imports, according to the Japan Aluminum Association.
"RUSAL asked us to halt payments soon after the US sanctions were announced as they can't access US dollar accounts," a source at a Japanese manufacturer told the agency.
The metallurgic giant is reportedly seeking alternative ways of settlement to continue selling its product to its customers in Japan. According to the source, most of RUSAL's Japanese clients use local financial institutions that are cautious of being involved with deals with companies on the US sanctions lists.
Russia's aluminum giant's 'exit from the market will trigger a local deficit in US, which in turn will lead to a price rally for American consumers' https://t.co/SwxHJMH4Kl

— RT (@RT_com) April 12, 2018
"Everyone has been on a search for substitutes and that pushed local spot premiums to around $200-$250 per ton by last Friday," the source said.
The figure is significantly higher than the Japanese term premiums for the April-June quarter shipments at $129 per ton. "The sanction came as a total surprise and we are in an almost panic situation," a source at another trading company said.
On April 6, the White House introduced new penalties against Russia, which Washington accuses of "a range of malign activity around the globe." The new sanctions target 24 Russian individuals and 14 major entities in different sectors of the economy.
The updated blacklist includes major Russian aluminum producer RUSAL, the world's second-largest aluminum producer. The company's shares touched an all-time low shortly after the announcement.
US penalties against one the world's biggest producers has also caused a price spike on the global aluminum market. Aluminum prices on the London Metal Exchange surged to $2,400 per ton on Monday for the first time in more than six years, and is currently hovering around that mark. The contract has gained about 20 percent this month.
For more stories on economy & finance visit RT's business section