Russia's Alrosa recovers huge pink diamond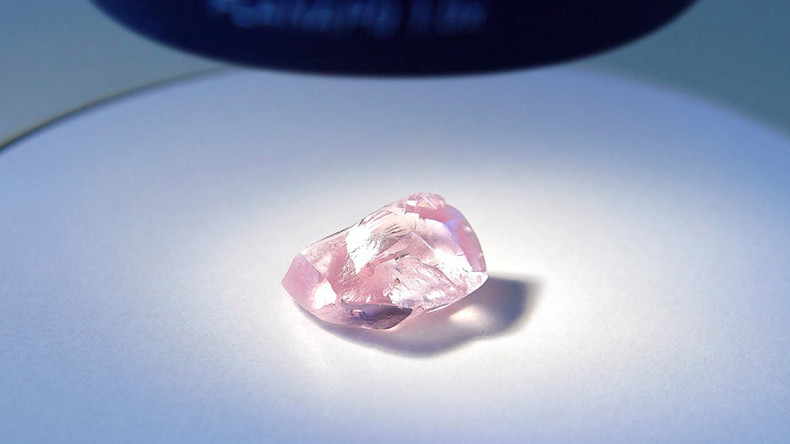 A unique pink diamond weighing 27.85 carats has been mined by Russian diamond producer Alrosa. The company's previous largest pink diamond had a weight of just four carats.
According to the company, the rough diamond has about the size of a large almond. The pink stone is of gem-quality and almost free of inclusions.
"The unique characteristics of the diamond make it an extraordinary, rare stone of high value... Large stones, especially colored, are always in demand at auctions. But if the company decided to cut it, it would become the most expensive diamond in the entire history of Alrosa," said the head of USO Alrosa, Evgeny Agureev.
Colored diamonds weighing over ten carats are very rare and are recovered about once a year. As for the pink shades, by far the largest 3.86-carat pink diamond was found by Alrosa in 2012. Apart from this stone, in the last eight years, it has only recovered three pink diamonds weighing over two carats.
Alrosa is planning to sell a unique collection of five diamonds at an online auction in November. It includes a 51.38-carat gem which is "the purest of all large diamonds manufactured throughout the Russian jewelry history."
The so-called 'Dynasty Collection' consists of five diamonds cut from a 179-carat rough diamond which was recovered in the Republic of Sakha (Yakutia) two years ago.
One of the world's largest producers of diamonds, Alrosa accounts for about 25 percent of global production and 95 percent of all diamonds mined in Russia. In 2014 Alrosa sold a diamond weighing 47.5 carats for $1.8 million at Sotheby's in New York.