Oil squeeze forces Saudi Arabia to stop contractor payments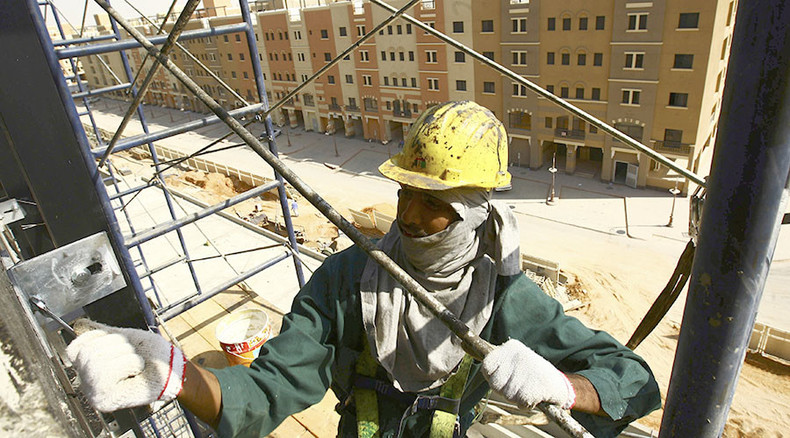 Companies working on infrastructure projects in Saudi Arabia haven't been paid for six months or more, Bloomberg reported on Monday, as the country is facing a budget deficit on sliding crude prices.
Payment delays increased lately as the government wants to cut prices on contracts in order to preserve cash, the sources said.
Analysts say such delays can slow completion of important projects, such as the construction of the $22 billion Riyadh metro, and also negatively affect the employment rate.
"It's hard to hold back from boosting spending when oil is on the rise, but very hard to cut when oil prices fall," said Simon Williams, Chief Economist for the Middle East and North Africa at HSBC. "Cuts are coming -- the budget deficit is too large to ignore and pretend its business as usual."
READ MORE: Crude down on Goldman gloom, Saudi stubbornness & global glut
Saudi Arabia is currently facing a budget deficit for the first time since 2009. It comes on the back of sliding crude prices with oil sales accounting for almost 80 percent of the country's revenues. The government cut spending, sold bonds and tapped foreign reserves to compensate for the oil plunge's negative effect on the economy.
The Kingdom sold state bonds worth $15 billion (55 billion riyals) this year. Net foreign assets fell by about $82 billion from January to August.
Saudi Arabia's GDP is expected to grow about three percent this year, according to data compiled by Bloomberg. The economy expanded 10 percent in 2011, following the authorities' announcement of $130 billion in social spending.