Russian oil producers outperform global competitors on weaker ruble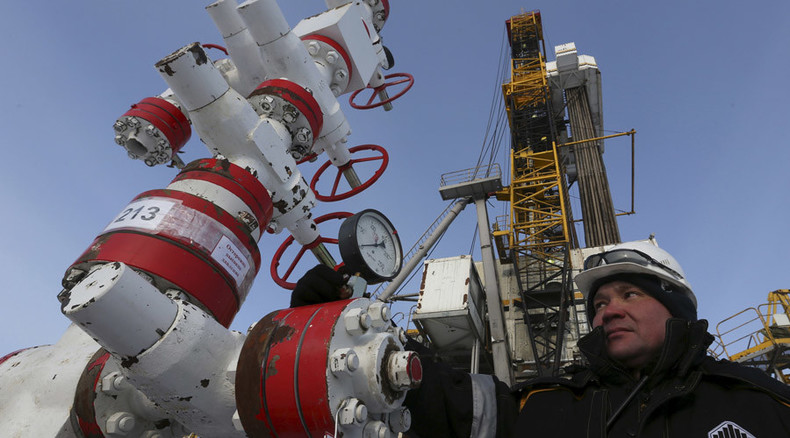 While the global energy giants are struggling with plunging crude prices, Russian oil firms are increasing profits and output as a weak domestic currency protects their business.
Russia's oil majors Rosneft, Lukoil and Gazprom Neft are doing better than their Western counterparts Shell, BP or Exxon. This comes on the back of the depreciating Russian currency which cuts costs and taxes for the companies that generate earnings in US dollars but pay most of their expenses in rubles.
"A weaker ruble is the key factor helping Russian oils to offset the drag of lower oil prices and this gives Russian oil companies a serious advantage against their global peers," Alfa Bank said earlier this month.
Gazprom Neft, the oil arm of state gas producer Gazprom, had earlier reported a 47 percent increase in second quarter net profit and its output jumped 25 percent.
Russia's second-largest oil producer, Lukoil was able to boost output in the first half of the year by reducing spending as a weaker ruble cut costs. Lukoil has cut capital expenditure by 31 percent to $5.32 billion mostly due to ruble devaluation, according to a company statement.
READ MORE: Oil slump leads to $200bn cut in new energy projects - study
The current tax system helps Russian oil producers feel confident in the global market, according to Lukoil's CEO Vagit Alekperov in an interview with Russian business daily Vedomosti, adding that the company can plan its investments based on a break-even oil price of $24 per barrel.
In early August, Goldman Sachs upgraded Rosneft, Bashneft and Gazprom Neft to 'buy' and named Lukoil its 'top pick' in the energy industry. It also predicted Russian crude production to grow by 1.1 percent this year.
While the depreciating ruble counters lower fuel prices for Russian oil companies, their global peers are seeing profits fall. BP in July reported an almost 64 percent drop in its second-quarter profit. Shell's net income during the same period was down by 37 percent, the company cut 6,500 jobs and reduced capital spending by 20 percent for the year, trying to mitigate the collapse of crude prices.
READ MORE:Crude near 6yr low on gloomy Japan data, US & OPEC output

"When oil goes down, the Western companies are hurt more than the Russian companies," Maxim Edelson, a Senior Director at Fitch Ratings in Moscow told Bloomberg.
Global oil prices fell to their lowest level in six years amid a global supply glut, below $50 per barrel from over $100 last August. The Russian ruble, the world's best-performing currency at the beginning of this year, followed oil's route, plunging to an average of 52.6 per dollar in the second quarter from 34.99 a year ago.