Eastern Economic Forum in Vladivostok (LIVE UPDATES)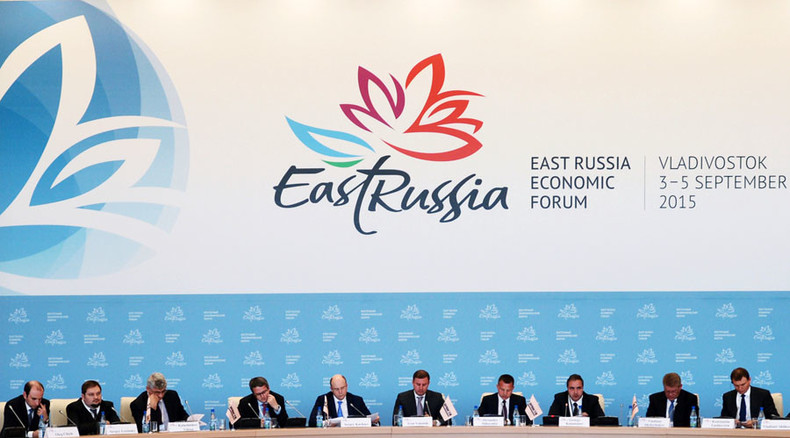 Follow RT as we take you to the economic forum in Russia's Far East. We'll keep you updated on major international deals that happen during the day. Stay tuned!
05 September 2015

12:40 GMT

Infrastructural development is a major matter discussed at the Forum.

Radio Sputnik's political analyst Andrew Korybko discussed upcoming projects in this sphere with Vice President of FESCO Group, one of the leading privately-owned transportation and logistics companies in Russia

04 September 2015

12:07 GMT

Several cities in the Russian Far East will become free ports. Local authorities expect the new status will attract ship owners and thus boost business in the region.

11:53 GMT

Oil producing countries are unlikely to cut crude output now, said Novak.
If you cut production now, prices will go up; inefficient projects once again will become profitable. This will subsequently increase the production of shale oil and, as a consequence, the prices will start to fall again, he said.

11:52 GMT

President Vladimir Putin said he sees nothing dramatic in the high volatility in energy prices.

Putin has also supported the transition of the national budget from the current three-year period to annually, saying it's now "impossible to forecast how world markets will behave under current conditions and how it will affect the budget revenue."

11:12 GMT

China's Sinopec will acquire a 10 percent stake in Sibur, a Russian gas processing and petrochemicals company, which will draw investment from China, Novak told RT.

11:11 GMT

Gazprom will supply Egypt with one million tons of liquefied natural gas annually for five years, said Russian Energy Minister Aleksandr Novak.

10:50 GMT

Moscow and Beijing are negotiating an increase in Russian oil supplies to China, said the chairman of the China National Petroleum Corporation (CNPC) Wang Yilin.

"China currently imports 15 million tons of crude oil from Russia through a pipeline. Now we are working on building a separate pipeline to increase the supply of crude oil to China," he said.

10:48 GMT

There is no planned meeting between Vladimir Putin and Barack Obama, said the head of the Russian Presidential Administration Sergey Ivanov.