Venezuela closes Colombian border to crack down on contraband
Published time: 11 Aug, 2014 17:27
Edited time: 13 Aug, 2014 04:27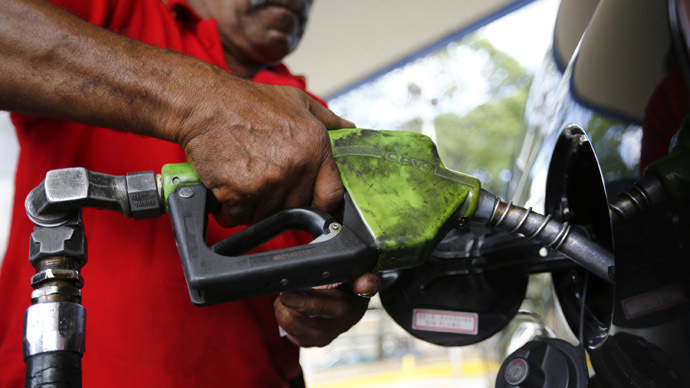 The Venezuelan government is closing its border with Colombia in an attempt to curb mass smuggling of goods from Venezuela to Colombia during the night hours.
The border will be closed off to all traffic from 10:00pm until 5:00am, and movement of cargo vehicles will be prohibited from 6:00pm until 5:00am. The new regime came into effect on Monday.
Venezuela's virtually-free gasoline and highly subsidized food products have transformed the border into a smuggling channel to Colombia, where goods are much more expensive.
In the first six months of 2014, 21,000 tons of smuggled food and 10.6 million gallons of gasoline were seized as they crossed the border.
According to Venezuela's National Armed Forces Chief Vladimir Padrino Lopez, the amount of fuel smuggled across the border has increased 500 percent since 2013.
"With these measures we are increasing the mechanisms to minimize contraband," the top ranking general said, as quoted by Reuters."
The general announced the 1,400 mile border will be shut down on Saturday and this will be publicized via a nationwide announcement on national TV. Venezuelan President Nicolas Maduro agreed to the measure earlier this month.
An oil rich country, Venezuela supplies about 75 percent of its own fuel needs, but the rest is imported from the United States.
Cutting food subsidies is a highly unpopular political stance, as if affects each and every consumer on a very micro level. In 1989, the last time the government attempted to cut the coffers, rioters took to the streets.
The country's late former president Hugo Chavez largely advocated in favor of the subsidies, as they lessened the country's dependence on the US.
The subsidies helped Venezuela and other Latin American countries weather the 2008 financial crisis. However, inflation, a slump in oil production, and food shortages are all taking their toll on the economy.
The national bolivar officially trades at 6.29 to the dollar, but on the black market actually sells for over 72, according to Bank of America. Inflation is quickly accelerating, and in June, consumer price indexes rose 62.1 percent. To compare, consumer prices rose 6 percent in Russia, and in 0.3 percent in the US.
Last year, oil sales at the state-run Petroleos de Venezuela fell to $114 billion, or 8.4 percent year on year.