​Tesla and Panasonic to establish world's biggest battery plant
Published time: 31 Jul, 2014 14:38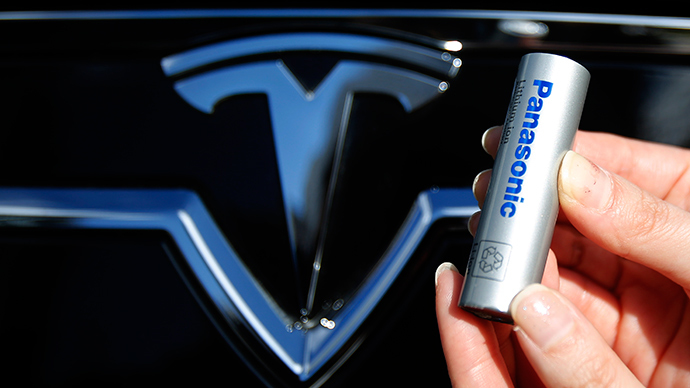 Electric car maker Tesla Motors and electronics giant Panasonic have signed an agreement to build the world's biggest plant to produce batteries which will be known as the Gigafactory.
"The Gigafactory is being created to enable a continuous reduction in the cost of long range battery packs in parallel with manufacturing at the volumes required to enable Tesla to meet its goal of advancing mass market electric vehicles, " says Tesla'spress release.
According to the agreement, Tesla will prepare, provide and manage the land, buildings and utilities, while Panasonic will manufacture and supply cylindrical lithium-ion cells and invest in the associated equipment
Tesla says the plant will require investment of up to $5 billion and employ up to 6,500 people. But the Japanese battery maker didn't disclose key details on how much it will invest in the project.
Earlier Tesla discussed Panasonic's involvement in the project to establish production of lower-cost advanced batteries needed in future Tesla vehicles later this decade.
Five US states, California, Nevada, Arizona, New Mexico and Texas are in the running to be home to the new plant.
Tesla expects the new factory producing lithium-ion cell to be a money spinner, as the demand for electric vehicles grows, manufacturing costs will fall due to scaling of production.
Currently Tesla has only one model in production, the Tesla S sedan. However, the manufacturer plans to launch the Tesla X crossover late next year. A new small sedan called the Tesla III is expected to be announced in 2017.