Risky UK mortgage loans reach five-year high
Published time: 10 Jun, 2014 19:24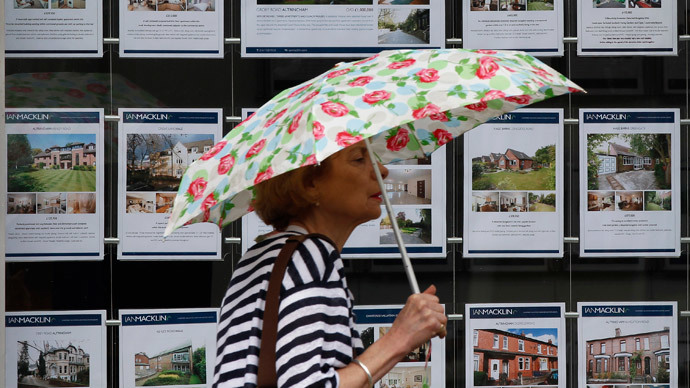 The number of risky UK mortgage loans has jumped to a five-year high. The share of fresh loans valued at 3.5 times more than a person's total income jumped almost 100 percent in the first quarter of 2014, according to Bank of England (BoE).
"The proportion of new mortgage lendings combined of a Loan-to-value over 90 percent and loan-to-income multiple of over 3.5 for single income borrowers or 2.75 for joint income borrowers increased by 1.1 percentage points to 2.6 percent, the highest since Q4 2008," The BoE said in astatement.
The newly released figures come after IMF managing director Christine Lagarde urged the implementation of "targeted and timely" measures to clamp down on high loan-to-income ratio mortgages, The Telegraph reported.
The BoE's Financial Policy Committee is expected to issue its Financial Stability Report at the end of June, which will include the new lending rules.
The government has created the Help to Buy scheme in an effort to make it possible to buy a new-build or existing home priced up to 600,000 pounds (US$1 million) with as little as a five percent deposit.
However, lending to first-time buyers still fell by 0.5 percentage points from the peak in the last three months of 2013, to 20.1 percent in this year's Q1.
The majority of borrowers are continuing to fix their mortgage rate in anticipation of an interest rate rise.
The proportion of gross advances at fixed rates increased for the sixth consecutive quarter, to 81 percent. This was an annual increase of 10.3 percentage points – the highest growth since 2007.
Meanwhile, the overall average interest rate fell by one basis point to 3.24 percent, showing the lowest rate since 2007. The decrease was due to a decline in average variable rates by six basis points, to 2.93 percent, and an increase in average fixed rates by two basis points to 3.32 percent from the other side.
"Borrowers are protecting themselves where they can with more than 80 percent of new mortgages taken on a fixed basis. Even though the average fixed rate edged two basis points higher, while variable rates fell on average by six basis points, the growing threat of an interest rate rise means the allure of the fixed rate is strong," Jonathan Harris, director of mortgage broker Anderson Harris said.