European regulator first slams S&P for 'erroneous' France rating cut
Published time: 4 Jun, 2014 15:32
Edited time: 4 Jun, 2014 16:39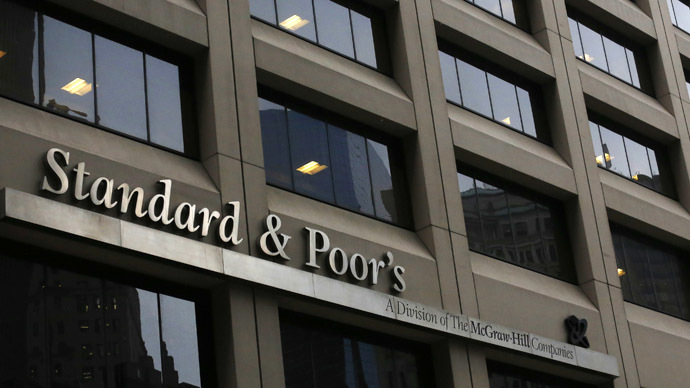 ​The European Securities and Markets Authority (ESMA) has censured the Standard & Poor's rating agency for incorrectly publishing a lowered rating for France. It's the first time the official European body has taken action against a credit rating agency.
ESMA released a public notice blaming S&P for an erroneous publication of France's rating dated November 10, 2011.
Then 468 subscribers of the Global Credit Portal, which S&P uses to send its products to clients, received an e-mail alert saying "France (Republic of) (Unsolicited Ratings): DOWNGRADE", although in reality France's rating had not been changed.
ESMA said the erroneous publication was not just a technical error, but a consequence of S&P's inability to correspond to the legislation on internal mechanisms of monitoring and an ineffective inner pattern of the agency.
It was "the result of a failure by S&P to meet certain organizational requirements set out in the CRA [Credit Rating Agencies] Regulation, relating to sound internal control mechanisms, effective control and safeguard arrangements for information processing systems and decision-making procedures and organizational structures."
The ESMA was given the rights to supervise rating agencies in 2011. Besides warnings the regulator can fine and withdraw licenses.
The action against S&P is the first time the organization has applied disciplined a rating agency, although they've been repeatedly criticized by companies and business groups.
S&P assured that the agency had "publicly acknowledged the error at the time" and it "welcomed ESMA's finding that there was no intent or negligence on S&P's part in this incident," the Financial News quotes agency's representative. "We have since enhanced our systems to safeguard against such an incident in the future."
Russia has repeatedly been calling for its own rating agency, which would break the world monopoly of a so-called big three – S&P, Moody's and Fitch.
On Tuesday Russian Finance Minister Anton Siluanov said Russia and China plan to establish a rating agency, but didn't provide any details.
On June 3 S&P revised the outlook to negative on 18 Russian banks and promoted one bank to stable status. Another 13 banks were confirmed with a stable outlook.
At the end of April S&P downgraded Russia's credit rating to just above junk status citing concerns over the significant capital outflow as a result of Russia's action in Ukraine.