Ex-Dior John Galliano to pay tax in Russia, after officially appointed director of beauty retailer
Published time: 23 May, 2014 17:25
Edited time: 23 May, 2014 17:35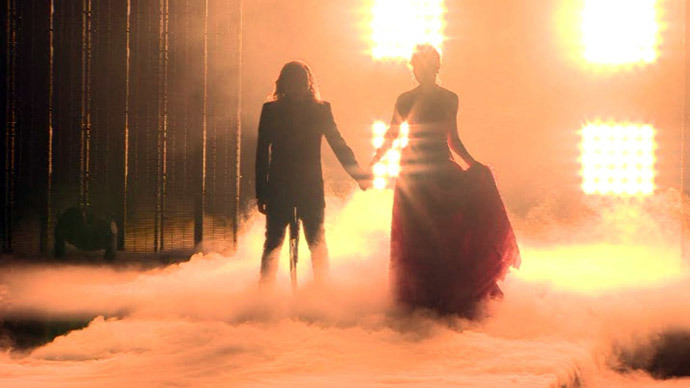 World-renowned designer John Galliano was officially introduced as creative director of Russian perfume and cosmetics chain L'Etoile. The company employed Galliano for at least a year, with him making an evanescent appearance at a Moscow show on May 22.
Galliano has been keeping a low profile over the past couple of years, after he was infamously dismissed from his job as Christian Dior power fashion house creative director in 2011. He's now made his comeback, landing the same role in Russia.

"John Galliano is our company's official employee in the position of the chain's creative, artistic director, meaning that everything concerning image campaigns, communication and creating products under L'Etoile own brand name will be Mr. Galliano's responsibility from now on," the company's general director Tatiana Volodina told RT. She added that they've signed a one year contract, but the collaboration turned out to be so "interesting and fruitful" from the start that she already thought the contract would be prolongated.

The company opened its first store in Moscow in 1997, and now is the country's leading beauty franchise, having around 850 stores in over 250 Russian cities. It sells fragrances and cosmetics by more than 150 international labels, including Chanel, Givenchy, Guerlain and Christian Dior.

Three years after losing his post at the latter and being in rehab following his departure from Dior and self-named label for a widely publicised anti-Semitic rant in a Paris bar, John Galliano appeared - for just a few seconds - on a catwalk at Barvikha Luxury Village, an exclusive Moscow suburbs.

After the announcement John Galliano was unavailable for comments, referred to as both 'being in a bad mood' and 'being shy' by L'Etoile representatives.
The company's general director was more eager to comment. When asked how the deal happened, Volodina said: "I think he wasn't expecting it himself. It's a new direction for him, new opportunity which he accepted with incredible enthusiasm. After such a long vacation John is back and ready for work". She also told RT that the designer visited Russia's Federal Migration Service office for being the company's 'absolute employee' and as such he will be paying his tax in Russia. Volodina didn't disclose Galliano's salary, but said the sum left 'everyone pleased'.

The result of Galliano's work for the company is promised to be seen in the near future and he's said to be spending plenty of time in Russia.

The 53-year-old designer began to re-enter the fashion industry recently, with various short term projects and collaborations. He co-designed a collection with the New-York based fashion house Oscar de la Renta in 2013, and acted as fashion editor for a British Vogue shoot starring Kate Moss. Galliano's assignment with the Russian beauty chain is said to be the biggest contract he's scored since his Dior times.