Russia has best placing in IMD World Competitiveness ranking
Published time: 22 May, 2014 11:27
Edited time: 22 May, 2014 11:34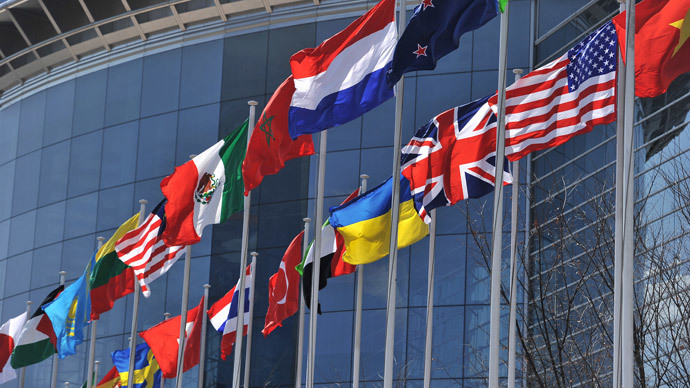 Russia gained 4 places to reach 38th among 60 countries in the 2014 IMD World Competitiveness Ranking. It's the only BRICS member to improve, and is Russia's best position in the history of the rating.
Since 1997 IMD ranks and analyzes the ability of countries to create and maintain an environment in which enterprises can compete. The study covers four main factors when evaluating national performance; economic performance, government efficiency, business efficiency and infrastructure. Each criteria is assessed by top managers of companies from the key economic sectors – commodities, manufacturing and services.
The improvement in Russia's rating is down to greater government efficiency. On this alone Russia gained six places to 37th, and better infrastructure saw it jump four spots to 35th place.
As opposed to last year when Russia's ranking was hurt by fears the Sochi Olympics would be a failure, this year's great outcome for the Games must have produced an "emotional splash" among respondents who assessed government performance much better, Elina Pechonova, IMD partner in Russia, told Vedomosti.
For a third year Russia remained in 53rd place for business efficiency, while economic performance worsened by 3 positions driven by slowing GDP growth, a worsening balance of payments, inflation, and the large shadow economy.
In 2013 Russia's improvement was better, gaining six positions, but that was mostly caused by the deterioration of other countries, according to the Vedomosti newspaper. In 2014 Russia's competitiveness grew while EU members were strengthening their positions and exiting recession.
Among the BRICS countries India mirrored Russia's promotion dropping 4 positions to 44. China is the leading BRICS country at 23rd. Brazil dropped 3 steps back to 54, while Russia's customs partner Kazakhstan improved 2 places to 32.
The US is the highest ranked in 2014, reflecting the resilience of its economy, better employment numbers, and its dominance in technology and infrastructure.
Europe fares better than last year, thanks to its continuing economic recovery. Denmark enters the top ten, joining Switzerland, Sweden, Germany and Norway. Europe's economies of Ireland, Spain and Portugal also showed improvements, while Italy and Greece fell.
"The overall competitiveness story for 2014 is one of continued success in the US, partial recovery in Europe, and struggles for some large emerging markets," said Professor Arturo Bris, director of the IMD World Competitiveness Center. "There is no single recipe for a country to climb the competitiveness rankings, and much depends on the local context."