­Veiled women in Egypt get their own TV channel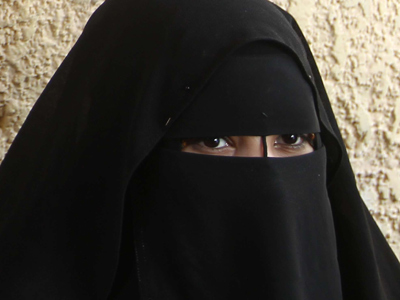 A TV channel managed solely by women wearing the niqab or the full-face veil has been launched in Egypt. Now devout women who wear the veil have the opportunity to find themselves a job.
Since Hosni Mubarak was deposed in Egypt, Islamists have been gaining more power, with a wide section of support from the community. Now it appears to be the right time for conservatively religious women wearing niqab, to stand up for themselves, as during  the Mubarak years niqab wearers faced difficulties finding a job, Reuters reports.
The niqab was banned from Egyptian television screens for years by Hosni Mubarak.
"I was told that it (TV anchorwoman wearing niqab) won't work because of the body language. Well, the tone of my voice can convey my emotions and reactions," Abeer Shahin a graduate of a prestigious American University in Cairo who struggled to find a job because of employers' aversion to her full Islamic face veil told Reuters.
According to the channel's owner Abu Islam Ahmad Abdallah the idea behind the project is to give veiled women a face and a voice, help them find a ground where they could work without being discriminated. 
"A veiled woman applied for work at a TV channel but didn't get the job. How come in that environment women wearing the niqab are victims of discrimination?" he said. "For this reason, I decided to start a channel and help pave their way in the hope that others follow my lead," Abdallah said.
The new satellite TV channel titled Maria (a reference to a Coptic Christian woman who was the wife of Muslim prophet Mohammad) is to begin broadcasting this weekend, on the first day of the Islamic holy month of Ramadan.
The new channel yet does not have its own offices, and is currently based in a small apartment in the working class district of Abassiya and will be broadcast for six hours daiy on the al-Ummah religious station run by ultra-orthodox Salafi Islamists.