In sickness and in health, and in a supermarket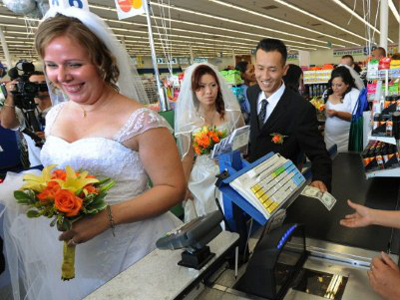 Picking weird locations for weddings is becoming an increasingly popular fad for lovers across the globe. Now, a couple from North Carolina has displayed true inventiveness by holding their ceremony in a supermarket.
For newlyweds Wayne and Susan Brandenburg, happy marriage began with a random meeting in Walmart 7 years ago. Susan worked as a cashier, and Wayne has just lost his wife and asked Susan out.
"For some reason, she said yes and it went from there," he told CNN.
The couple decided to say "I do" in the layaway section of the local Walmart on Valentine's Day. Among the guests were the supermarket employees, families and friends.
The happy couple were not the first Americans to get married in a supermarket. An elderly couple from Florida celebrated their wedding at Whole Foods in 2010, white two other lovers from Michigan got married in a shoe store.