­Outrage as Picasso painting 'vandal' gets gallery show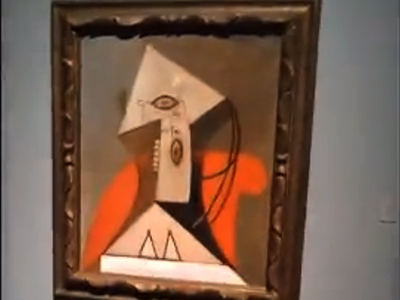 Spoiling the work of a genius may pay off. A 22 year-old man accused of spray-painting a Picasso has been given his own gallery show in Houston causing outrage in the art community.
Uriel Landeros is on the run after allegedly painting a stencil over a Picasso painting at the Menil Collection in Houston in June. He later posted a video on Youtube claiming his "intention was never to destroy Pablo's painting or to insult the Menil."
"If I would have wanted to destroy the painting I would have ripped it with a knife or burnt it," Landeros says in a video he released in which he referred to himself as a "vandal."
"I am sorry for insulting anybody who misunderstood my message," Landeros says in his address.

Twelve of Landeros's works are now going on display at the Cueto James Art Gallery, much to the annoyance of the Houston art community. Even so, owner James Perez expects a full house at the opening.
Despite the public outrage, Perez says he's happy that a man could actually cause such massive resonance with his act and feels "inspired" with this deed.
"It made me happy that someone could evoke this kind of emotion in people," Perez said adding, "It's just taking something and making it your own. I like what Uriel did. That it makes it yours."
However many do not share Perez's enthusiasm. "You don't destroy someone else's artwork and call that art," artist and arts promoter Mitch Cohen said, "I've never seen such a backlash against a show."
Some call it felony, while others say it's "all about the sensationalism."
The Menil Collection had no comment on the show, but says the Picasso painting is currently being restored.
Cases of vandalism for the sake of fame and publicity are not new.
Earlier this month, a vandal from Poland painted graffiti over a Mark Rothko work at London's Tate Modern.
Uriel Landeros (Image from facebook.com)