Russia's first big-budget 3D movie shootings over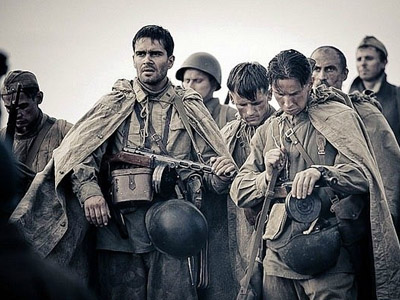 Russia's first big-budget 3D movie dedicated to one of the bloodiest battles in history - the Battle of Stalingrad, has ended shooting and will soon be ready to hit the silver screen.
­The "Stalingrad" blockbuster war drama is due for release in Russian IMAX theatres in 2013. Filming took place at several locations around St. Petersburg, and has just been completed. Now the movie is in post-production.
The film focuses on one of the key battles of WWII, which left almost two million people dead and eventually halted the Nazi advance through Russia, reversing the course of war in favor of the Allies.
IMAX website has already issued a synopsis to the movie.
"The Soviet army mounts a counter-attack on the Nazi forces that occupy half of Stalingrad on the other side of the Volga, but the operation to cross the river is unsuccessful. A few soldiers who managed to get to the other side take refuge in a house on the banks of the Volga. Here they find a girl who didn't escape when the Germans came. While the whole might of the German army descends onto them, the heroes of Stalingrad experience love, loss, joy and the sense of ultimate freedom that can only be felt by those about to die. They defend the house at all costs while the Red Army prepares for another attack."
Image from Kinopoisk.ru
Producers have published a series of stills from the movie revealing the state-of-the-art graphics and special effects. Over 400 people worked for over 6 months to recreate the scenery.
Apart from being the first domestic big-budget 3D movie, the project is also among the most expensive Russian films. Its production cost 30 million dollars according to Stereoscopy News.
The film is the brainchild of director Fyodor Bondarchuk, the son of the Oscar-winning creator of War and Peace movie. Ukrainian producer Alexander Rodnyansky is also attached to the project.
Whether the film will or will not be released abroad has yet to be announced.
Image from Kinopoisk.ru