'South Park' paradise: High on drugs Jesus joins 'Free Pussy Riot' appeal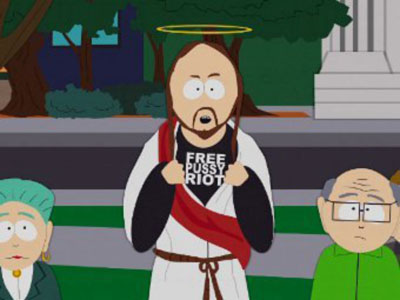 The recent doping scandal involving cyclist Lance Armstrong has been given special treatment in the latest episode of 'South Park' which also featured signature character Jesus in a "Free Pussy Riot" t-shirt dedicated to the jailed Russian punk band.
­The punk group members were arrested after they stormed the Christ the Savior Cathedral, where they performed a profanity-laden 'punk prayer.' The trio were sentenced to two years in a medium-security prison for hooliganism motivated by religious hatred. The women insisted they never intended to offend people's religious sensibilities; one of them was released on probation after successfully appealing her conviction.

While A-list celebrities from Sting to Madonna voicing their support for Pussy Riot, 'South Park's' new episode, entitled 'A Scause for Applause', didn't go into the punk group story, opting for what appeared to be a more relevant issue.

"Rocked by the recent news of drug use by a beloved icon, the world is left feeling lost and betrayed. The boys, join with the rest of the nation, and remove their yellow wristbands. Everyone is on board, except for Stan, who just can't seem to cut off his bracelet," the summary to the episode, which premiered on Wednesday, said.  

When Stan refuses to get rid of his bracelet, the community follows in his footsteps and starts wearing "Stan Ground" bracelets.  "I stand for standing," Stan tells the world, his statement becoming a catchphrase.  Cartman, meanwhile, is wearing bracelets for just about every occasion imaginable, including those informing 'I love Boobies' and "Lap dancing is not a crime'

When Jesus turns up, things get wild. The episode comes to a close with Jesus taking drugs and destroying the factory producing the plastic bracelets, in what appears to be a parody of Dr. Seuss' signature children's stories. Jesus wearing the "Free Pussy Riot" t-shirt emphasizes what's written on his chest by saying the slogan out loud, with those around repeating the demand to free members of the Russian punk band.