Russian schoolboy to ski to North Pole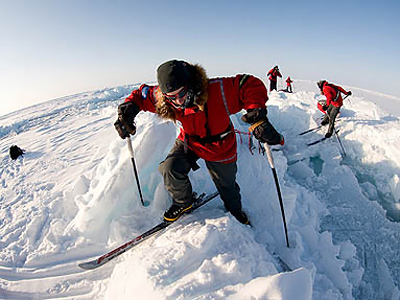 Children are not usually allowed to join polar expeditions - for obvious reasons. But now, a Russian schoolboy is set to make his dream to visit the North Pole come true against all odds, and could even set a world record.
Arctic temperatures, ferocious winds, hundreds of miles to walk and no civilization hardly sound like friendly conditions for minors. But a dream is a dream. And the Arctic challenge is about to be taken by a 15-year-old schoolboy. If Aleksandr Petrov successfully reaches his destination, he will become the youngest person ever at the North Pole.
In the spring, young Sasha is set to join a skiing expedition led by Russian traveler Dmitry Shparo. Normally, members under 16 would not have been allowed. But having considered Sasha's health record and made sure that the boy's family approves, the organizers decided to let him join in.
Aleksandr Petrov may contact the Guinness Book of Records, however even if he does, they might refuse to register his achievement.
Earlier this year, the Guinness Book of Records refused to register the record of another young traveler. 16-year-old Dutch sailor Laura Dekker became the youngest person ever to complete a non-stop voyage around the globe. The Book of Records suggested that acknowledging the feat might encourage other teenagers to undertake dangerous travel, and refused to register it.