The (Russian) Social Network: Biopic to be made about Vkontakte founder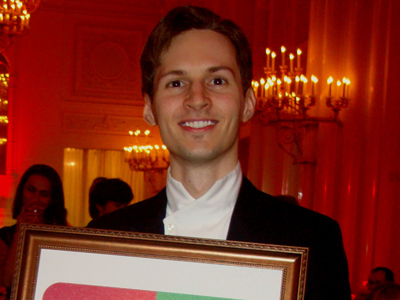 Pavel Durov, the founder of Russia's largest social network VKontakte, is the country's version of Mark Zuckerberg. And like the Facebook founder, he will soon be immortalized on film – a biopic movie about Durov's life has just been announced.
The film on the St Petersburg born entrepreneur will be based on the book 'Durov Code' by journalist Nikolay Kononov according to his website Hopes & Fears.
According to the author, the "VKontakte story is very powerful and cinematic, and that's why decided to write it."

"This social network is a virtual state with a population of over 100 million users; and Durov's path is most interesting for the new generation of entrepreneurs, everyone who would like to build their business on the internet," Kononov says.
Aleksandr Rodnyansky whose credits include working on Machete Kills, Cloud Atlas, Elena and many other films will produce the movie.
He has already said he has no intention of singing the praises of Pavel Durov.  He added that the film is being thought as a "drama featuring the people of today and a very interesting main character."

VKontakte or VK was founded in 2006. It has over 190 million registered users. It is the most popular social network among Russian-speaking users around the world, including Russia, Ukraine, Kazakhstan, Moldova, Belarus and Israel.