­New Age Noah's Ark closed: Bugarach refuge limits access ahead of Mayan doomsday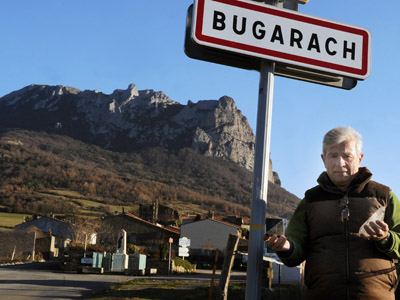 The village of Bugarach, at the feet of the French Pyrenees – believed to be the only place on the planet to be left standing after next month's predicted apocalypse – has been closed for the occasion.
Local authorities decided to limit access to the peak beginning December 19, and through December 23.
New Age theories say Bugarach will be the only refuge where people will be able to escape the apocalypse, which they expect to fall on December 21 of this year.
Local residents and authorities still fear that pilgrims of the Mayan calendar will flood the area and disturb their way of life. A hundred policemen and firemen will control access to the village, which is nestled at the foot of a mountain, and is said to have "magical powers" and is believed to be a "gate between worlds."
Authorities also banned mass parties at the area and are now considering introducing a no-fly zone around the peak.
Bugarach, with its serene nature, breathtaking landscapes and around 200 residents, became one of the most famous villages in France only a few years ago, when New Agers started promoting what was called an "ancient prophecy" and is probably just a rumor of doomsday on December 21, 2012.
The buzz around Bugarah started back in 2010 when the mayor of Bugarach, Jean-Pierre Delord, first came across the armageddon forecast online after being alerted by a fellow villager, The Guardian reports. As the rumors started spreading, media caught up with the news while more and more people started visiting the previously unpopular location.
The mayor raised the question of security and precautions needed to avoid a disturbance. Meanwhile, the locals still fear sect meetings, mass suicides, and the like.