Au Louvre! French Museum attracts record number of visitors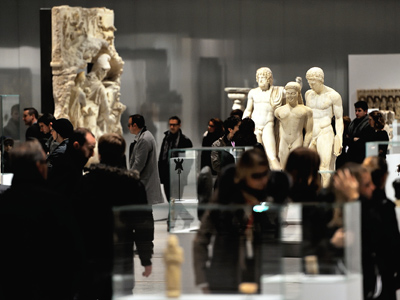 In 2011, a record 8.8 million people visited the Louvre in Paris, one of the richest and the most famous art museums in the world.
Venus de Milo and the Mona Lisa are two of the hundreds of other priceless and timeless works of art the Louvre hosts, making it one of the French capital's most popular attractions.
The number of visits to the Louvre in 2011 set a new record for the museum, beating its 2010 figures by 5 percent.
Museum officials claim the overall increase is due to "strong growth in visits from America, and an increasingly notable presence of visitors from developing countries."
According to a statement by the Louvre, almost two-thirds of the museum's visitors are tourists from outside France.
The analysis revealed that the Louvre is visited by more people from Brazil than from Italy, Spain, Russia and Australia. The number of Chinese visitors also grew.
The second-most-visited French attraction is the palace Versailles, which more than 6 million tourists visited in 2011.