Tools of tolerance? St. Pete leaflet depicts cartoon migrant workers (PHOTOS)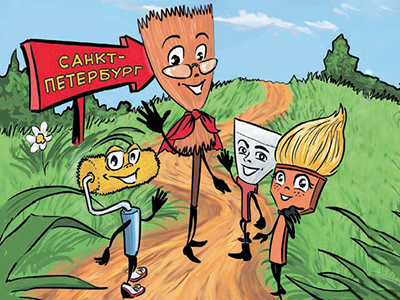 In a bid to help migrant workers make their way in a big city, St. Petersburg has issued a reference guide depicting them as work tools with smiling faces – for greater clarity.
St. Petersburg's government has published the guide titled Labor Migrant's Reference Book on its website. It comes as a part of the government's "Tolerance" initiative aimed at "harmonizing intercultural, interethnic and inter-confessional relations." But…
The manual depicts working migrants as… tools! Migrants in the book are given the comic bodies of shovels, brushes and palette knives while the local residents are depicted as normal people. Artists Stanislav Shchepkin created the illustrations for the guide.
The city authorities claim that they have nothing to do with the visual concept of the guide and deny responsibility for depicting migrant workers as tools with smiling faces. They even issued an official statement saying "the executive authorities of St. Petersburg did not take part in the expert evaluation and the implementation of this project."
The manual for migrant workers contains three chapters and around 50 pages of text illustrated with images. It refers to legal questions with recommendations, personal hygiene and precautions against diseases like HIV/AIDS, and gives advice on intercultural and everyday aspects of life in the city.
The authors of the reference guide say St. Petersburg not only has "a unique history and culture" but also "its own rules, problems and possible risks." The book is aimed at giving migrants an idea about the problems and difficulties they may face and "help support your family and return back to your Fatherland alive, healthy and proud of having made a contribution to our great city."
The guide was issued in four languages –Russian, Kyrgyz, Tajik and Uzbek.
The illustration from the guide titled "Labor Migrant's Reference Book". (Image from spbtolerance.ru )
The illustration from the guide titled "Labor Migrant's Reference Book". (Image from spbtolerance.ru )
The illustration from the guide titled "Labor Migrant's Reference Book". (Image from spbtolerance.ru )
The illustration from the guide titled "Labor Migrant's Reference Book". (Image from spbtolerance.ru )