Nazi tortures of sick children portrayed in new opera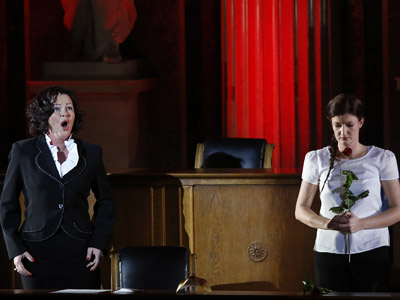 An opera depicting how the Nazis slaughtered mentally or physically disabled children, mainly Jewish, during World War II had its world premiere at Austria's Parliament in the light of the Holocaust Memorial Day observed worldwide on January 27.
­The composer has dedicated the score to his great-grandfather who died in a concentration camp. Peter Androsch said the fact that it was hidden for generations "says a lot about conditions in totalitarian regimes and should serve as a reminder for me and many others," AP reported.
The opera recalls the atrocities that took place at Vienna's Am Spiegelgrund clinic between 1938 and 1945, where a great number of children died.
Thousands of disabled children lost their lives as part of the Third Reich's 'euthanasia' policy aimed at detoxifying society of people proclaimed 'unworthy to live'.
Up to 800 sick children died at Vienna's Spiegelgrund psychiatric ward. The killings were part of a large-scale campaign that resulted in the deaths of 75,000 people – homosexuals, the handicapped, or others the Nazis deemed 'unworthy lives' – and served as a prelude to the Holocaust, AP informed.
Among the first spectators of the opera were Holocaust survivors and former Spiegelgrund patients.
One of them, Spiegelgrund survivor Friedrich Zavel, was reportedly brought to the clinic back in 1940, accused of homosexuality. "I know neither revenge nor hate," the 83-year-old man told AP.