Suspects arrested in robbery of Greece's Olympia museum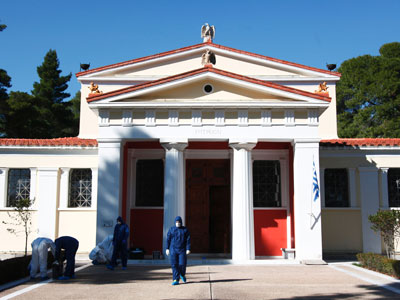 Greek police have arrested several people suspected to be involved in an armed robbery at a museum in Olympia in which a pair of masked thieves earlier this year stole up to 70 archaeological artifacts of "incalculable value."
­"Three people were arrested after trying to sell one of the items stolen in the robbery," a police spokesperson told AFP.
Greece's Skai Radio reported that the suspects are Greek nationals. The arrests mark the first major reported breakthrough in the case since the robbery occurred in mid-February.
Two armed robbers stole between 60 and 70 valuable items on display at the Museum of the History of the Olympic Games in Olympia, which boasts an expansive selection of ancient Greek objects d'art. The art treasury, situated about 320 kilometers west of Athens, is home to a number of artifacts connected to the original Greek Olympics.
Ater breaking in and tying up a female employee, the two robbers immobilized the museum guard and removed bronze and clay objects from the displays, Greek police said.
Among the stolen items was a 3,300-year-old gold ring, a bronze statuette of a victorious athlete and a 2,400-year-old oil jar.
Greek Minister of Culture Pavlos Geroulanos submitted his resignation following news of the robbery, though it was reportedly not accepted by the prime minister.
In January of this year, thieves staged another well-organized heist at Greece's biggest state art museum, the National Gallery in Athens, stealing two masterpieces by Picasso and Mondrian.