One step beyond: Game consoles instead of audio guides for Louvre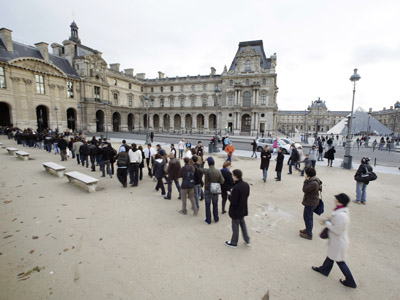 The Louvre has teamed with the leading video games manufacturer Nintendo to give visitors a cutting-edge device instead of its classical audio-guide. The museum has bought hundreds of handheld consoles that will make sure you don't get lost in the museum
Nintendo's famed 3DS games console was redesigned for The Louvre and was unveiled by the museums managing director Herve Barbaret and Nintendo's chief games designer Shigeru Miyamoto on April 11. Preparation of the project took over 5 years, France Soir reports.
The new device will not only be able to locate you in the museum and hint where to head next if you're lost, but also would give some extra options. It features 700 audio commentaries for the Louvre's best known treasures, like the Mona Lisa and the Venus of Milo and allows views of 3D models of some exhibits, The Times reports.
"There is the risk that it will not work properly, or that older people will not like it, or that people will not understand why there is a games console in the Louvre, but I am prepared to shoulder that risk," The Times quotes Herve Barbaret as saying.
With the new device you wouldn't have to fight the crowd to catch a vague glimpse of the Mona Lisa as the artwork is also available in HD, which allows seeing details better than your eye can do just in front of the painting.
The museum's management hopes the installed tours will help disperse the crowds and the cutting-edge device will also attract more young people to the museum.
The Nintendo consoles currently offer seven spoken languages – French, English, German, Spanish, Italian, Korean and Japanese. This list will grow with time.