Nabokov's last masterpiece fails to find new owner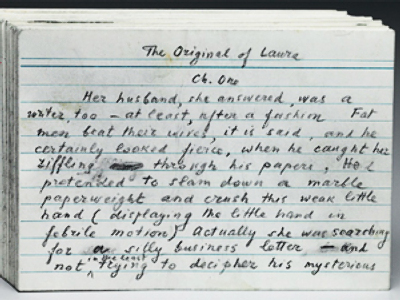 Christie's auction house failed to sell the manuscript of last unfinished novel by Vladimir Nabokov. "The Original of Laura" was preliminary estimated worth some $400-600,000.
The manuscript of the novel, in 138 catalogue cards with text, was put up for auction by the son of the Nobel-winning writer, Dmitry Nabokov, and was meant to be sold in New York on December 4. However, there was not sufficient interest in potential buyers.
The unfinished novel was not supposed to reach wide audiences according to the last will of the writer. Shortly before the death in Switzerland in 1977, Nabokov asked his wife Vera to burn it, but she did not dare make it.
The cards holding another masterpiece were stored in a Swiss bank until April of last year when the 75-year-old son of the writer Dmitry declared that manuscript would go public. In November 2009, the novel was published despite the wishes of the author, immediately becoming a best-seller.
On November 17, "The Original of Laura" appeared on sale in the UK and the USA, and the Russian translation was released on November 30.
Earlier some fragments of the unfinished novel were published in Playboy magazine.
The letter of first US president George Washington became the most expensive item of the auction, conducted on December 4. The letter of Washington to the nephew consisting of four pages and dated November 9, 1787, was sold for $3,218,500.