Pushkin for Pussy Riot? Moscow monuments masked (PHOTOS)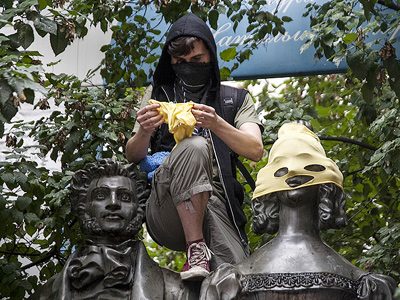 Monuments across Moscow have been "masked" in support of the Pussy Riot members. The court has sentenced the three girls to two years in jail.
­Supporters of Nadezhda Tolokonnikova, Maria Alehina and Ekaterina Samutsevich have put colored masks on several monuments in central Moscow.
Among the adorned monuments are the one to poet Aleksandr Pushkin, scientist and writer Mikhail Lomonosov, and the monument to the great Kazakh poet, composer and philosopher Abay Qunanbayuli.
Members of the band stormed into Moscow's biggest cathedral in February and sang what is described as a 'punk prayer' at the altar. The girls were arrested soon after, and have been kept imprisoned ever since.
The three have pled not guilty to the charges, saying their performance was a protest against the unification of church and state authority.
Should they be convicted all three could face up to seven years in prison, although the State Prosecutors have asked for only a three year sentence.
A Moscow court has sentenced three members of Pussy Riot to two years in prison for hooliganism motivated by religious hatred and enmity.
­The Judge said they showed flagrant disregard for the church parishioners and the fundamentals of the Orthodox faith.