Moscow's Mercury City becomes Europe's tallest skyscraper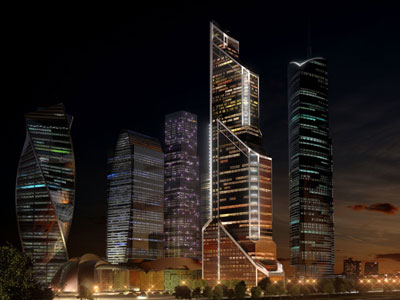 Moscow now boasts Europe's tallest building – the Mercury City tower – being built by retail billionaire Igor Kesaev in the capital's emerging financial district. The tower has reached its full height of 339 meters, overtaking the Shard in London.
According to Hamburg-based researcher Emporis, the new Russian landmark has become Europe's tallest skyscraper while still under construction, as it is now 29 meters taller than the Shard.

Image from mercury-city.com
­"It's a perfect indicator of Russian business activity. It shows that all of Russia continues to move forward along with countries of the eurozone," the Director of the Mercury company, Igor Kesaev, was quoted as saying by Interfax news agency.
Image from mercury-city.com
­The tower has about 90,000 square meters of office space and 20,000 square meters of apartments. Kesaev said investment in the project totalled $1 billion.

Image from mercury-city.com
­The 70-story skyscraper, situated in the capital's new financial district called Moscow City, is the brainchild of Russia's Mikhail Posokhin and the late American architect Frank Williams, the creator of Manhattan's Trump Palace.

Image from mercury-city.com
­Mercury City's reign as Europe's tallest skyscraper won't last long, however. Its rival next door is the under-construction Federation Tower, set to reach 506 meters when it's completed next year.