Timely twitting of Tate tagging: User reports vandalism of Mark Rothko painting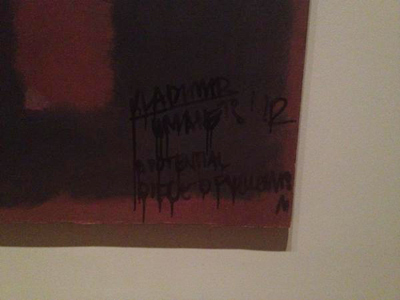 The man who defaced the multimillion-dollar masterpiece by the Russian-born American pioneer of abstract expressionism Mark Rothko at the Tate Modern has allegedly identified himself as Vladimir Umanets, a Russian artist.
­He told the Guardian he is responsible for writing on the Rothko mural. Umanets explained his act of vandalism is evidence of his engagement in the piece of art whose value, in his opinion, he has improved.
Another visitor to the museum quickly responded on his Twitter that he had witnessed the incident. One of Rothko's signature Seagram murals got defaced after a black marker was used on the painting.

"This guy calmly walked up, took out a marker pen and tagged it. Surreal," Tim Wright wrote. "Very bizarre, he sat there for a while then just went for it and made a quick exit," he added.

Wright also uploaded a photograph of the damaged canvas on his Twitter page. The image featured several words on the bottom-right corner of the vandalized painting that appeared to read: "Vladimir Umanets, A Potential Piece of Yellowism."

Rothko was commissioned to create the Seagram murals for Manhattan's Four Seasons restaurant in New York, back in the late 50s. However, they were never installed. Several of them eventually ended up in the Tate collection, donated by the artist as gifts shortly before he died. The gallery on the River Thames has described the famous series as iconic.

Rothko's signature abstract masterpieces, created on colossal canvases and exhibited in the world's major museums, feature the juxtaposition of colors. The artist, who studied painting at Yale University, used color as the sole medium of expression, having been influenced by the European Surrealists. Like many Jews Rothko emigrated from Russia in 1913 to the United States and became one of America's most important artists.

Earlier this year his tour de force "Orange, Red, Yellow" fetched $86.9 million at Christie's in New York, setting a new auction record for the artist. It was the most important Rothko to come on the market since 2007, when his "White Center'' from the David Rockefeller collection sold for $72.8 million.