Runaway Russian ballerina honored by Kennedy Center along with Led Zeppelin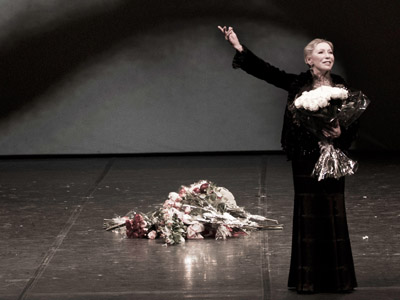 The Soviet ballet legend who fled to the West during the Cold War era, Natalia Makarova, has been named a Kennedy Center Honoree, along with Oscar-winning actor Dustin Hoffman and the rock band behind 'Stairway To Heaven', Led Zeppelin.
­71-year-old Makarova, often referred to as one of the finest ballerinas of her generation, was praised for her "profound artistry" that "has ignited the stages of the world's greatest ballet companies."

She was the prima-ballerina of the Kirov Ballet (now The Mariinsky) in Leningrad (St. Petersburg) from the mid 1950s to 1970 when Makarova fled to the West and began performing with New York's American Ballet Theatre and London's Royal Ballet.

She has danced with such Russian-born ballet luminaries as Mikhail Baryshnikov, Alexander Godunov and Rudolph Nureyev, all of whom defected to America from the Soviet Union.

Photos from belcanto.ru
In 1983 she won a Tony Award for her performance in the musical On Your Toes.

In 1989 Makarova returned to her native country and the Kirov Ballet, reuniting with her family. Some time later she retired from dancing.

"With their extraordinary talent, creativity and tenacity, the seven 2012 Kennedy Center Honorees have contributed significantly to the cultural life of our nation and the world," Kennedy Center Chairman David Rubenstein was quoted as saying.

The Kennedy Center Honors were established in 1978. Past honorees have included singers Aretha Franklin, Barbra Streisand and Luciano Pavarotti, as well as talk show host Oprah Winfrey.