Austrian nudists encouraged to assess 'Naked Men'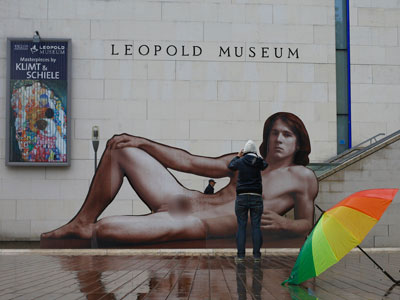 Vienna's forward looking Leopold Museum has extended its hit exhibition "Naked Men", through till March, inviting loyal visitors to get naked in an after-hours viewing.
­"There was a request by an association from Germany for a nude guided tour," the museum's spokesman told Reuters. "We thought about it, and decided it would be a good idea to have a special nude viewing open to the public."

"If you are not a nudist you are welcome to come clothed. But we don't want voyeurs so it's better not to be clothed," the spokesman added.
The exhibition displays nearly 300 art works capturing the changing aesthetics of male nudity in art history. It has proved to be a huge success, with over 2000 visitors a day. The Vienna's museum boasts the world's largest collection of works by one of the key artists of the 20th Century, Austria's Egon Schiele.

"We noticed a large increase in young people attending the museum, about 10 percent more," the spokesman said. "Having both "Naked Men" and "Klimt: Up Close and Personal" brought a lot of people in this past year."
According to the Leopold museum, "Naked Men", is an "unprecedented exhibition of male nudity" in Austria, "something no other country has done".

Among the items generating the biggest buzz is a photograph by the controversial French duo Pierre & Gilles. "Vive La France" puts the spotlight on three men of different races captured wearing nothing except for blue, white and red socks and soccer boots, in a tribute to the French tricolour.

"Hopefully it will be replicated around the world."

When the exhibition opened in October the Leopold received a number of complaints from local religious groups and residents, it agreed to cover up the intimate parts of the three naked soccer players featured in large-scale publicity posters across the city.

"Their reaction is not part of liberal thinking in the 21st century," the spokesman told Reuters.