Iran, Lebanon resort to movie for revenge on Israel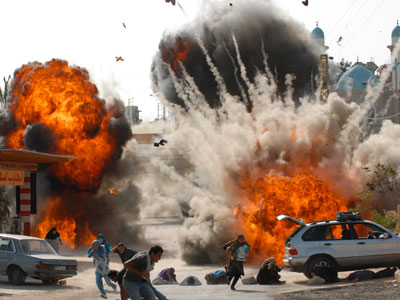 A movie titled after the duration of the Second Lebanon War, 33 Days, has become a hit in the country - but is unlikely to receive many screenings in Israel or the West.
­The film depicts the 2006 war between Israel and Hezbollah, and promotes the group's anti-Israeli struggle.

The film's director, the crew, and a large portion of the funding reportedly hail from Iran. 

Iran's quasi-governmental Farabi production company provided more than half of the film's $4 million budget, Ali Bouzeid, chairman of the film's Lebanese production company, told The Associated Press. Although the war drama touches on Iranian influence in Lebanon, he denied that the film is political.  
The main character in 33 Days is an Israeli army colonel portrayed as an unmistakable villain wearing a cowboy hat and smoking cigars. He orders his troops to shell Lebanese villages, whose residents team up to repel the aggression. Hezbollah forces are featured in the film as freedom fighters.
33 Days has become the talk of the town in Lebanon ever since its long-awaited release in late April. It is soon to be released in Egypt and Turkey.
Back in 2006, eight Israeli soldiers were killed and two captured by the Lebanese group Hezbollah. This prompted Israel and Hezbollah to clash in a 33-day conflict during which the group fired a hail of rockets into Israel, while Israelis bombed Lebanese towns and villages. Israel accused Iran of arming Hezbollah.