Et tu Brute: Russian audience member gets sharp surprise during 'Julius Caesar' performance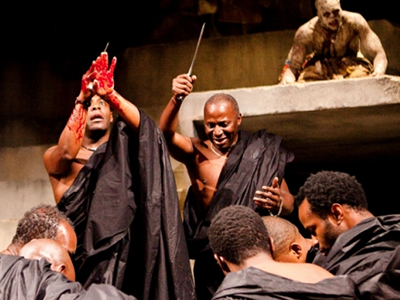 A Russian woman watching a production of Shakespeare's 'Julius Caesar' got more involved with the plot than most. She was hit by a fake dagger thrown by a British actor portraying Mark Anthony after it accidentally rebounded.
­The incident took place during the second act of the performance by the UK's Royal Shakespeare Company in the Russian capital. Director Gregory Doran put the performance on hold to make sure the woman didn't need hospital treatment. The show was resumed after she assured the cast she only had a minor scratch on the nose.

Doran said it was an emergency situation that had never occurred before. Despite the incident, once the performance was over, it was met with an ovation.

His signature production is set in modern Africa, bringing the spotlight on Britain's leading black actors. The idea to move the setting from Europe to Africa came to the director when he got hold of the collection of Shakespeare's plays that had once belonged to Nelson Mandela, a big fan of 'Julius Caesar'.

The blockbuster production premiered in the UK earlier this year gaining an array of positive reviews describing the performance as thought-provoking and unconventional.