iRussia: iTunes store comes to Russia hoping for fair play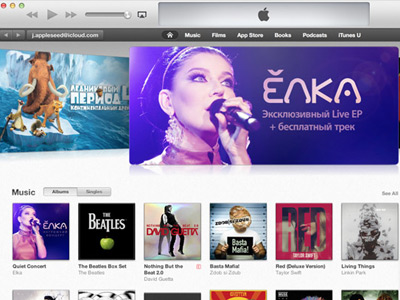 Apple fans in Russia have something to celebrate. The company has finally launched an iTunes Store for local users. On top of this, the price for downloading tunes by local and international singers is half that in America.
­The iTunes' catalogue boasts up to 30 million tunes as well as 45 thousand films, available for rent or purchase. Many come in HD, from major studios such as 20th Century Fox, Sony Pictures Home Entertainment, The Walt Disney Studios and Warner Bros. Pictures, as well as leading local distributors.

Apple had to put off the day of its arrival in the Russian market because of the challenging talks with the rights holders.
While iTunes stores are available in 119 countries, internet users in Russia have been hooked on downloading music, films and books illegally, refusing to pay for the content.

"A legal market for audio content doesn't survive unless it accounts for at least 15% of the whole market," Director General of Russia's Soyuz music company, Aleksand Menn, told Interfax news agency. "Meanwhile, only several percent account for legal audio traffic in Russia," he added.

However, according to the study by digital music analysts Musicmetric, Russia is not the world champion in illegal downloads. America tops the list with 775 million per year, followed by the UK at 247 million. Russia comes 24th with 22.7 million downloads.