Belize professor files complaint over replica crystal skull in 'Indiana Jones'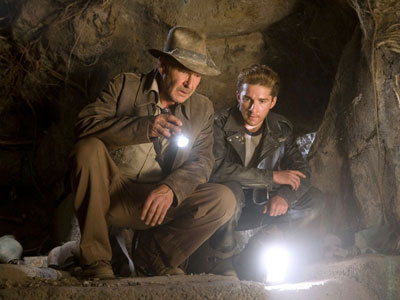 A real-life Indiana Jones, the director of the Institute of Archeology of Belize, has filed a lawsuit against Lucasfilm claiming the 2008 'Indiana Jones' movie's titular crystal skull is an illegal copy of an artifact stolen from Belize 88 years ago.
­Dr. Jaime Awe is demanding the return of the rare artifact's replica, which he claims was stolen by the treasure-hunting family Mitchell-Hedges nearly 90 years ago, the Hollywood Reporter said, calling it "one of the most entertaining lawsuits of the year."
In the film, the crystal skull is misattributed to Mayan culture, the lawsuit explained.

"Lucasfilm never sought, nor was given permission to utilize the Mitchell-Hedges Skull or its likeness in the Film," the complaint reportedly states. "To date, Belize has not participated in any of the profits derived from the sale of the Film or the rights thereto."
The archaeologist is presently seeking damages for 'illegal profits' made by the film studio for using an alleged replica of the crystal skull in the blockbuster 'Indiana Jones and the Kingdom of the Crystal Skull.' The film grossed over $780 million worldwide.
Awe argued that Belize maintains the "right, title and interest in and to the Mitchell-Hedges Skull and its likeness." He claimed that an adventurer named F.A. Mitchell-Hedges traveled to Belize back in the 1920s; his adopted daughter allegedly unearthed a crystal skull under a collapsed altar in the Central American country.
It was later taken to America in 1930, and then traveled with the father to the UK where it supposedly remained until the adventurer's death in 1959. The skull was then in the possession of the daughter, and later her husband in Indiana. The family reportedly made money from exhibiting it, THR said.
In the movie, Jones (Harrison Ford) discovers the skull in Peru. The treasure is portrayed as being of an unspecified Native American origin.
Crystal skulls have long been a magnet for adventurers from across the world, allegedly possessing supernatural powers. Archaeologists work to determine the origins of these skulls, often coming across fakes.
Four authentic crystal skulls are known to exist in the world; three are on display at public museums.