'Russia a strong movie-going market,' IMAX boss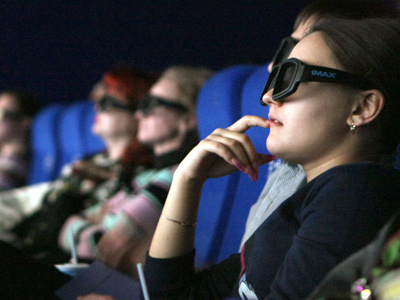 Although no movie in Russia or overseas has yet managed to match the success of James Cameron's sci-fi epic Avatar, striving for a strong visual impact, the IMAX company still paints a rosy picture of its future on the Russian market.
­Until recently Russia was the 4th biggest and most rapidly growing market for the Canadian company. Last year, however, IMAX revenues dropped to $16 million, and Russia became number 6.
Chairman and President of IMAX Filmed Entertainment Greg Foster explained to RT that 2010 had brought "Avatar, the biggest movie of all time, and that raised the bar to quite a high level."
"Russia continues to be one of our fastest growing markets and was in fact our third largest territory in terms of global box office for 2011," Foster said in an exclusive interview with the channel. "Russia also matched China in delivering IMAX per screen averages of approximately $1.7 million throughout the year. We are confident that the combination of a strong 2012 film slate, including our first Russian DMR film, and more theatres scheduled to open this year will deliver better results in this market."
The next challenge for IMAX is an ambitious Russian project from director of The 9th Company Fyodor Bondarchuk and producer of Billy Bob Thornton's latest family drama Jane Mansfield's Car, Aleksandr Rodnyansky. Their war epic Stalingrad is scheduled to be released in 2013. Is IMAX expecting a breakthrough?
"It is exciting to be a part of the film, particularly with such a great team behind it. Producer Alexander Rodnyansky and director Fyodor Bondarchuk are responsible for some of Russia's most successful films and we are honored to be partnering with them on this epic motion picture. Stalingrad brings together these talented filmmakers with a powerful story that – when presented in IMAX – will offer Russian audiences the 'you-were-there' experience that IMAX is known for. All I can say for now is that we have been very impressed with the footage we have seen."
There are only 22 IMAX theaters in the CIS, 19 in Russia and 3 in Ukraine. Six of them opened last year. In America, there are 336, and 88 in China. It will obviously take years for Russia to catch up with the rest of the world. Does IMAX have the patience to wait?
"It is important to remember that we have been in the U.S. for over 40 years and our theater network did not get where it is today overnight. While the Russian film business is still recovering from post-Soviet "depression" and the last financial crisis, Russia continues to be a key growth market for IMAX and we will continue to invest and support its expansion," Foster explained.
He added that the company's clients in Russia are "very professional and well aware of the trends emerging in the global cinema business."
"Russia is a strong movie-going market and as Russian audiences continue to become more sophisticated and demand better content and quality, this will drive local studios and directors to make better films," Chairman and President of Imax Filmed Entertainment believes.
­Valeria Paikova, RT