­Paint it white: Makeover of 'Hollywood' sign begins (PHOTOS)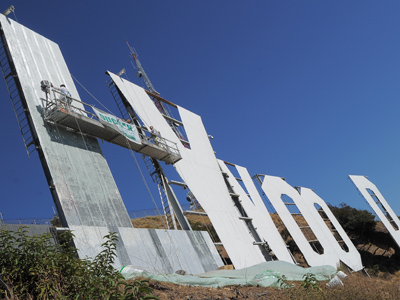 Nearly 1,700 liters of paint, 10 weeks of work and many pairs of hands will be put to work giving the iconic Hollywood sign the facelift of the century. The landmark is getting a makeover like no other for its 90th birthday next year.
The letters of the sign looming on Mount Lee in Los Angeles, California, will be stripped of old paint, polished and re-coated with fresh white paint. The Hollywood Sign Trust – a nonprofit organization engaged in protecting the landmark – is giving the sign this extensive makeover for the first time in almost 35 years.
The front of the sign will be get a spruce-up, and the back of each letter will also be cleaned and painted down to the metal base.
The word 'Hollywood' is spelled in huge, 14-meter-tall letters and has a total length of 110 meters. It was initially installed on the Hollywood Hills in 1923 as an advertisement for the Hollywoodland Real Estate Group, and has remained in place for almost a century as it became more and more popular. The original landmark featured four extra letters – 'land' – which were removed in 1949.
In the 1970s, some of the sign's letters, made of wood and metal, deteriorated and required urgent repairs and replacements. In 1978, a public campaign was launched to restore the landmark. Promoted by rocker Alice Cooper and Playboy magazine founder Hugh Hefner, the campaign raised $249,300 to fund the replacement of the wooden letters with steel ones. Nine donors, including Hefner and Cooper, donated almost $28,000 each to fix up all the letters in the sign.
The landmark was repeatedly vandalized and damaged over the course of its history, but has been continually restored and maintained despite these misfortunes.
Workers use window-cleaner style platforms as they strip down the 50-foot (15-meter) tall letters, power washing the corrugated iron and apply nearly 400 gallons of fresh paint while restoring the Hollywood sign on October 26,2012 in Hollywood, California (AFP Photo / Joe Klamar)
Workers use window-cleaner style platforms as they strip down the 50-foot (15-meter) tall letters, power washing the corrugated iron and apply nearly 400 gallons of fresh paint while restoring the Hollywood sign on October 26,2012 in Hollywood, California (AFP Photo / Joe Klamar)
Workers use window-cleaner style platforms as they strip down the 50-foot (15-meter) tall letters, power washing the corrugated iron and apply nearly 400 gallons of fresh paint while restoring the Hollywood sign on October 26,2012 in Hollywood, California (AFP Photo / Joe Klamar)
Workers use window-cleaner style platforms as they strip down the 50-foot (15-meter) tall letters, power washing the corrugated iron and apply nearly 400 gallons of fresh paint while restoring the Hollywood sign on October 26,2012 in Hollywood, California (AFP Photo / Joe Klamar)