Hated by Hitler: Memorial to 'degenerate artists' to be created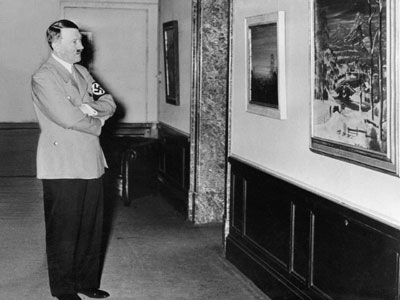 The first memorial to Nazi Germany's 'degenerate artists,' whose creations had once been banned by censors, is set to be created outside of Germany. The shrine will be located in a remote valley in the UK, and will reportedly cost $50,000.
­A campaign will soon begin to raise money for the memorial, which will be located in a mountainous region in northwest England's Lake District. The Lakeland memorial will feature a glass top over the upturned roots of a fallen tree, the Independent reported. The project, the brainchild of artist Jill Rock, will likely be titled 'Roots of Modernism.'
The site is located near an old barn that was the last workplace of one of the greatest artists who ever lived, Germany's Kurt Schwitters, creator of Merz Pictures.

In 1935, his artwork was confiscated from German museums and publicly ridiculed. Several years later, after being interrogated by the Gestapo, Schwitters fled the country to join his son in Norway, and later moved to Scotland. His signature Merz collages were included in a Nazi exhibition titled 'entartete Kunst', meaning 'degenerate art,' making his return impossible. Schwitters died of a heart attack in England in 1948.
Project sponsor Littoral Arts Trust hopes to raise around $50,000 by next spring. "As far as we know, there is no formal memorial or designated public place in which to honor or remember all the artists who were interred, executed, or forced to flee their homes and studios," Ian Hunter of Littoral Arts told the Independent.