History of Russian torture unveiled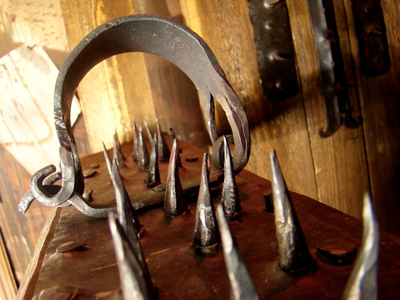 Torture has long been a terrifying, yet mystical attraction to many – and now, a new museum in Moscow is gives visitors a chance to explore the history of torture and executions in Russia.
And it's not mental illness that causes the curiosity, but a desire to know what it was like to be punished in the far past. Gallows, birches, and guillotines were once in wide use, but today they are more of a means to learn a bit more about our country's history.
At the new Museum of Physical Punishments, you can learn about traditional, cruel and unusual punishments used in Russia. One third of the exhibits on display are authentic artifacts, purchased from private collectors and archeologists, while the rest were recreated based on historic descriptions. You may even be impressed at how inventive Russians were back in the day.
For example, you will see the so-called "cat," a machine was used to deal with pedophiles and other offenders. It features a special mask put on the faces of counterfeiters before pouring white-hot lead down their throats.
Separate sections are dedicated to the torturers of Soviet yesteryear, and etchings depicting torture and executions.
Whether it is an historic museum or just an attraction is for you to judge. The museum will opens December 23 at Arbat 25/36.