Hermitage, accused of blasphemy, investigated on extremism claims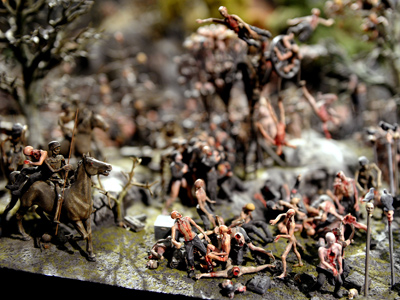 A scandal is escalating around an exhibit of British artists Jake and Dinos Chapman at St. Petersburg's State Hermitage Museum. Russian prosecutors have launched an investigation against the museum on suspicions of extremism.
The city's prosecutors claim to have received dozens of complaints over the display, saying Jake and Dinos Chapman's exhibit End of Fun, which showcases a crucified Ronald McDonald and Teddy bear, insults visitors' religious feelings.

"This is the cultural degradation of our society," museum director Mikhail Piotrovsky told journalists in St. Petersburg on Friday, reacting to the launch of the legal procedure. "There is nothing blasphemous here, but a clear desire to ruin the mood in our city. It's up to the museum to decide whether it is art or not. We can't be dictated by rules in such a street manner," Piotrovsky added.
The display opened in the Hermitage in late October as part of the museum's initiative to introduce contemporary art. The exhibit's central work is an installation with nine glass boxes inside which small figurines are featured in scenes of extreme violence.
Critics applauded the museum's decision to put on the show.
It's not the first time freedom of artistic expression is being compromised in Russia. Some art shows have even been suspended, while certain artists have been prosecuted.
In 1998 artist Avdey Ter-Oganyan held a performance where he chopped up cheap copies of icons with an axe. Police initiated a criminal case against the artist, forcing him into exile.
In 2010 Andrey Yerofeyev and Yury Samodurov, who organized the Forbidden Art exhibition at the Sakharov Museum in Moscow in 2007 were convicted by a Russian court of inciting hatred. The men were fined 150,000 rubles (around $4,800) and 200,000 rubles (around $6,500).
A display called Icons featuring religious symbols and curated by political and art activist Marat Gelman was suspended after the authorities requested the opening postponed. Gelman says he was forced to cancel the show.
He also organized a display dedicated to Pussy Riot earlier this year. This display was met with protest from Russian Orthodox activists.
Three members of Pussy Riot were sentenced to two years in jail after performing their anti-Putin "punk prayer" at Russia's main church in February this year.
The building of the State Hermitage from the side of Dvortsovaya square (RIA Novosti / Rudolf Kucherov)