Harvard students send hamburger into low orbit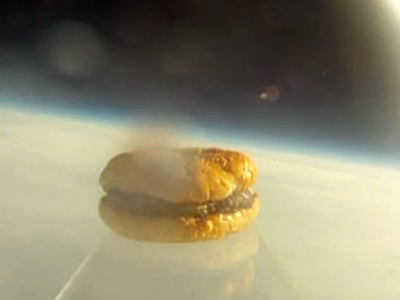 One snack boldly went where no junk food has gone before: Harvard University students sent the first hamburger into space, 30,000 meters above the Earth, and filmed its trip. The video, uploaded to YouTube, already has over 200,000 views.
­The video – 'Operation Skyfall: First hamburger in space' – was uploaded a week ago and shows five friends from Harvard sending a days-old hamburger into space.
The space enthusiasts sprayed the burger with some varnish so that it remained in one piece on its epic journey.
"It's a couple of days old actually, but that's good, because we need it to be hard," One of the students says in the video.
They attached the burger to a specially designed platform with a video camera and a GPS-equipped smartphone, inflated a weather balloon with helium to carry the unusual payload, and voila! The hamburger set off on its first-of-its-kind space journey.
The burger launched in Sturbridge, Massachusetts, eventually reaching a max altitude of around 30,000 meters before the balloon burst and sent it freefalling back to the ground. The space-traveling hamburger and the equipment landed on a tree outside Boston.

(screenshot from YouTube video)
(screenshot from YouTube video)
(screenshot from YouTube video)