Fees to avoid: Met museum accused of misleading visitors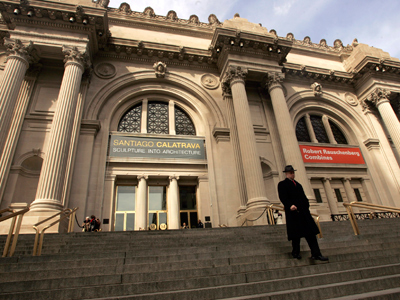 Two staff members of the Metropolitan Museum of Art have filed a lawsuit against the Manhattan museum claiming it rips off visitors who are pushed into thinking its admission fees are mandatory.
­While the fees start from $25 for adults, $17 for seniors and $12 for students, the museum also has the 'pay what you wish' option available at all times.  

According to The New York Times Arts Beat blog, the staff members, Theodore Grunewald and Patricia Nicholson believe the museum makes it difficult for visitors to understand the fee policy, a practice intended to "deceive and defraud" the public.

The suit reported by The New York Post also mentions a survey commissioned by Grunewald and Nicholson, in which 85 percent of visitors asked if they knew the fee was optional allegedly replied that they thought they were required to pay.

The suit calls on the court to prevent the museum from charging any fees.

A spokesman for the museum, Harold Holzer, reportedly called the suit "entirely frivolous."

Signs above the museum's admissions desks currently include the word "Recommended" below the word "Admission", while the museum's Web site suggests that "to help cover the costs of exhibitions, we ask that you please pay the full recommended amount."

When the recommended fee was first launched in the 1970s, signs over the cashiers' desks featured the phrase: "Pay what you wish, but you must pay something", The New York Times said.