King's touch: Elvis Presley's library card fetches thousands at auction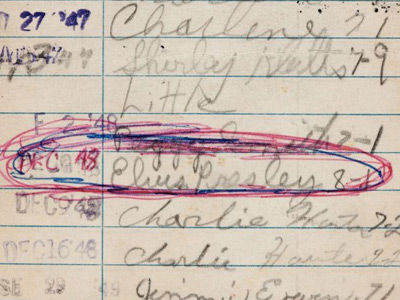 A library card bearing the signature of a 13-year-old Elvis Presley was sold at auction for $7500, doubling estimates. The autograph is believed to be the earliest signature of the King of Rock and Roll.
­The auctioneers did not expect much from the library card signed to borrow a copy of  "The Courageous Heart: A Life of Andrew Jackson for Young Readers" from Humes High School in Memphis in 1948.
The card was discovered during a library inventory in the book about US President Andrew Jackson, one of the founders of the Democratic Party. The book was sold at auction along with the autograph.
Other Presley-related items up for sale including pill bottles, a trench coat and a signed high school yearbook, the Daily Mail reported.
"Elvis remains one of the most popular and durable figures in American Pop Culture," Margaret Barrett, Director of Entertainment & Music Memorabilia at Heritage Auctions, told Art Daily. "This auction, our second event totally dedicated to Elvis, is a celebration of his amazing life and legacy."
The auction was held to mark the 35th anniversary of Presley's death.