'Don't f**g drink & drive!': Hard hitting ad campaign against drunk drivers in Russia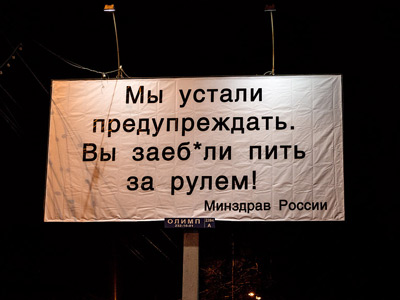 With lawmakers looking to step up efforts against drunk drivers in Russia, an unconventional ad banner has been spotted over one of Moscow's highways. "We are tired to warn you. Don't f**g drink & drive", the slogan says.
­"It's clear that it's home made, but nevertheless it's much more efficient than the boring social ads we find across the streets of our city," driver Aleksandr Popov, who spotted the banner, signed 'Russia's Ministry of Health', wrote on his LiveJournal blog.

The catchy slogan stunned not only him, but a number of other drivers and passers-by who couldn't help stopping to take pictures of it in the middle of the night.

Last month Russian MPs suggested that drink-driving accidents causing deaths be made equal to terrorism. The proposal came after the arrest of a drunk Moscow driver who rammed a bus stop late on Saturday night, killing seven people, five of them orphans aged 15-17, and injuring three.

According to Shamsail Saraliyev of the United Russia party, over 2000 people were killed in 2011 by intoxicated drivers in Russia, and since the beginning of this year this number has already exceeded 2300 people.

Some Russian lawmakers have suggested making such killings equal to deliberate murder, which would increase the prison term from 9 years to 15. In other suggestions, drivers should be stripped of their licenses for life if they get caught drunk at the wheel for a second time. The fine for the initial misdemeanour could increase from 5,000 roubles ($160) to 100,000 (over $3,200) in the near future.

Calls to toughen legislation against drunk drivers who flagrantly ignore the law have won support from Prime Minister Dmitry Medvedev and President Vladimir Putin.

A number of Russian drivers have urged Dmitry Medvedev to reconsider the current law which allows for a blood alcohol level of zero. According to those who have signed the public letter to the Prime Minister, the current regulation doesn't take into account the potential margin of error in the alcohol detection device.