­Dream of all Italians: Gay couple unveil dead Berlusconi artwork (PHOTOS)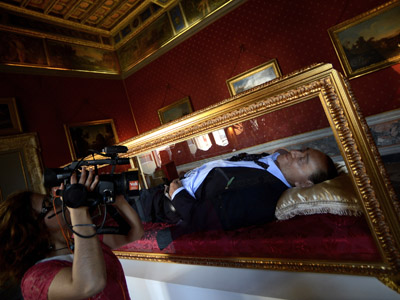 The first ever married gay couple has created an ironic installation poking fun at Silvio Berlusconi, hinting at his sins and highlighting the personality cult around the former Prime Minister.
Titled The Dream of Italians, a smiling silicone Berlusconi doll lies inside a transparent glass case, Italian Corriere della Sera reports. The name refers to a phrase used by the former Prime Minister on the phone to one of his girlfriend, where he described himself as "the dream of all Italians".
The Berlusconi doll's eyes are closed, yet he smiles, lying on a satin pillow in a double-breasted jacket with Mickey Mouse slippers on his feet, one hand inside unzipped pants and the other on the History of Italy.
Artists Antonio Garullo and Mario Ottocento, who were also the first gay couple to get married in 2002 in Amsterdam, created the installation.
Italian artists Antonio Garullo (L) and Mario Ottocento poseon May 29, 2012 next to their work, called "The Dream of Italians," showing a wax figurine former Italian Prime Minister Silvio Berlusconi inside a shrine, at the Ferrajoli Palace in the center of Rome. (AFP Photo/Filippo Monteforte)
­
"We put Berlusconi's body into a glass case to emphasize the personality cult that he has been creating for all these years and which will possible remain for years to come. At the same time we put a screen between the contingent reality and historical judgment. If Italians are ultimately "a people of saints, poets, seafarers" then the arch-Italian Silvio is a worthy simulacrum of this people," the authors of the project say.
The installation is on show just a few steps from the Palazzo Chigi, the official residence of Italian PMs.
AFP Photo/Filippo Monteforte
Reuters/Alessandro Bianchi
Reuters/Alessandro Bianchi