'Liberty Leading the People': Delacroix masterpiece vandalized in Louvre-Lens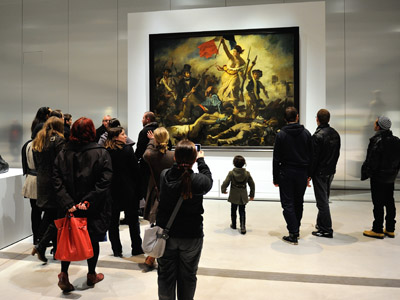 A visitor to the Louvre-Lens museum has vandalized a famous Delacroix painting "Liberty Leading the People". The woman wrote on the bottom of the iconic painting with a black marker. After she was arrested the museum was closed.
­According to a museum statement, the 28-year-old woman "was immediately apprehended by a security officer and a visitor", taken to police and placed in custody.

"At first glance, the inscription is superficial and should be cleaned easily," the statement goes on to say.

"The work will be appraised by the Department of Paintings of the Louvre Museum and a restoration specialist, who immediately rushed to the site," they added.

A security guard blocks the entrance of the Louvre-Lens Museum in the French northern city of Lens, on February 8, 2013 after a woman vandalized on the eve the Eugene Delacroix masterpiece "La Liberté guidant le Peuple" (Liberty leading the people, by writing on it "AE911" with a black permanent marker on the painting. (AFP Photo/Philippe Huguen)
­"Depending on the results of the examination, a decision will be taken whether to move the work or not for restoration," the statement said, according to Le Figaro.

Last year President Francois Hollande cut the ribbon on the €150 million Japanese-designed museum, which opened to the public on December 12.

For its first five years, the museum's 125-metre central gallery is showcasing 200 works from Antiquity to 1850, including masterpieces by Delacroix, Raphael and Leonardo Da Vinci.
"La Liberté guidant le Peuple" (Liberty leading the people). (Image from Wikipedia.org)
­According to the Louvre-Lens' director, the challenge in the first year is to attract up to 700,000 visitors to the new site. The museum was opened in the former mining town in Northern France, and wants to attract at least half a million visitors annually, as compared to the nine million annual visitors to the Louvre itself.

The latest incident "does not affect the desire to share with everybody the masterpieces of the Louvre in Lens, which has already attracted 205,000 visitors since its opening," the statement emphasized.