Soda producers using tobacco tricks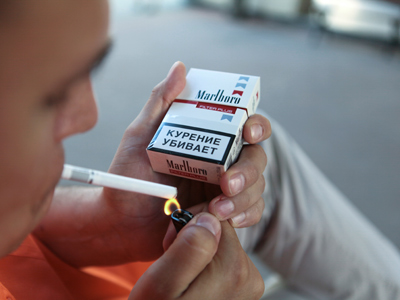 There doesn't appear to be much similarity between selling soft drinks and cigarettes, but they are certainly getting closer.
­A recent study shows a decline in soda consumption in the US, and cola companies appear to be adopting marketing strategies used by tobacco companies to keep and attract consumers, according to Forbes.com
Beverage Digest, which annually measures the size of the Carbonated Soft Drinks (CSD) market in the U.S., reported soda consumption has dropped by 1% in 2011, compared to 2010, continuing a general seven-year-long decline. Meanwhile, a fall of consumption is something tobacco companies have long gotten used to, making up new strategies to sustain revenues.

Last year major tobacco companies in the U.S. increased the price of cigarettes twice to make up for declining volumes. Soft drinks aren't as addictive as tobacco, so obviously such aggressive pricing policies are unlikely to work, nevertheless, the values of CSD sales have reportedly been creeping up. According to Forbes.com, total CSD retail sales rose 2% to $75.7bln in 2011. How is it possible? Two words – energy drinks. Energy drinks have a higher retail price, so instead of raising the prices for traditional colas, companies are aggressively promoting drinks with a higher margin. Which brings us to alternatives.

Another trick used by cigarette companies to stay in the business is using alternatives, like smokeless tobacco products. Nicotine patches or gum, for example, are thought to be less harmful than cigarettes and usually attract lower excise duty. A similar story is seen with non-carbonated drinks like tea, water mixers etc., the sales of which also grew 0.8% in 2011 in the U.S.  

Another point tobacco companies have managed to prove to be a useful tool – lobbying. In 2011 they are estimated to have spent up to $16mln on lobbying, according to Forbes.com. When it comes to soda producers, here they've managed to confidently outplay cigarette brands. Together PepsiCo, Coca-Cola Co and the American Beverage Association have spent $70mln on lobbying last year.
However, aggressive lobbying didn't help soda giants prevent one law recently enforced in California, making them change their top-secret recipes. A scientific study showed that Coca-Cola, Pepsi-Cola and Dr. Pepper all have an ingredient which caused cancer among lab rats. 4-MI is used for colour and scientists claim excessive use may cause cancer among humans too. Even though it's thought a person has to drink over a thousand cola cans per day to get cancer, Pepsi-Cola and Coca-Cola still changed their recipes. Otherwise, they'd have to mark their products as increasing the cancer risk – and that's definitely not a great marketing move. The new soda is currently only sold in California, but it is planned that it will soon be distributed throughout the entire country. However, other nations will still be supplied with traditional sodas.

On a global scale, both Coca-Cola and Pepsi-Cola are doing quite well. Both are witnessing the growth of sales in Latin America, Europe, Asia and the Middle East, especially in emerging markets. In the fourth quarter of 2011, Coca-Coca sales grew by 33 percent in Thailand, by 15 percent in India, by 12 percent in China, by 8 percent in Russia. While the company's global growth rate is estimated to be around 5%.

In Russia sales of soda drinks grew by 3 percent in the fourth quarter of 2011, and now a group of activists are calling for a court to ban Coca-Cola Light. To substitute sugar, the producer uses a chemical which is thought to be around 200 times sweeter and scientists have been warning it has a negative affect on the human brain. Activists claim, the drink's label mentions nothing of these risks and doesn't warn consumers.