Chagall painting sets new Asian auction record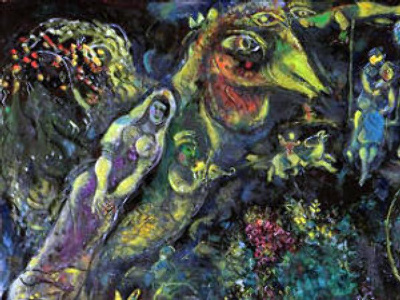 "Bestiaire et Musique", a painting by a renowned modernist Russian-French artist Marc Chagall has been sold in Hong Kong for the unprecedented sum of US$4.18 million to an unnamed buyer.
The painting, created in 1969, features a bride and a violinist floating in the night sky and surrounded by clowns, acrobats, and weird circus animals.
It was put up for bidding by Seoul Auction and became the most expensive Western artwork ever sold at Asian auction, even though the sale price is relatively modest in comparison to world art trade records. For example a sculpture by Amedeo Modigliani went under the hammer for almost $57 million in June this year. At the same time, Pablo Picasso's "Portrait of Angel Fernández de Soto" was sold in London for over $53 million.
Until recently, modernists were especially popular among Western art collectors, however now the Asian market has stepped forward confidently on to the same scene.
Marc Chagall was born in Russia in 1887 and went to St. Petersburg to study art at the age of 20. He spent most of his life in France, but had to flee to America during the Holocaust.
During the years of his avant-garde creativity, he developed a recognizable romantic style. Apart from painting Jewish village life, lovers, rabbis and violinists, he also created illustrations for the Bible, Nikolay Gogol's "Dead souls" and fables by famous Frenchman Jean de La Fontaine.
Chagall's works are represented in the world's main art museums and galleries around the world.